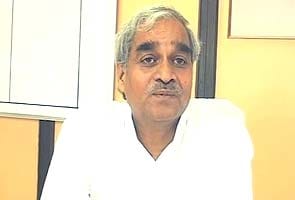 Vijay Pandhare, the prime whistle-blower in the Maharashtra irrigation scam and a government officer who had sought voluntary retirement, on Friday decided to continue with his job.
Pandhare, a chief engineer who played a major role in exposing the irrigation department scam which led to Ajit Pawar's resignation as deputy chief minister, was pained by "canards" being spread about him, said D.G. Kulthe, general secretary, Maharashtra Gazetted Officers' Federation (MGOA).
However, Pandhare on Friday wrote to Chief Minister Prithviraj Chavan and the irrigation secretary that he would like to continue working.
The development came after a delegation of MGOA office-bearers met Pandhare in Nashik this week and persuaded him to continue in service.
"He is a very senior officer with just a year left before retirement. We requested him to reconsider his decision as the state government needed good officers," Kulthe said.
Pained by wild allegations and some Nationalist Congress Party members calling him "mentally unbalanced", Pandhare decided to put in his papers and opt for voluntary retirement scheme.
A member of Maharashtra Engineering Research Institute and head of the Maharashtra Engineering Training Academy, Pandhare had written letters to the chief minister and Governor K. Sankaranarayanan pointing out the scam in the irrigation department.
However, one of his letters in which he spoke about a strong political-bureaucrat-contractor nexus got leaked to the media, blowing the lid off the irrigation scam.
Pandhare's letter, coupled with documents produced by India Against Corruption activist Anjali Damani, revealed massive irregularities in irrigation projects, usurpation of land for non-existent projects, and other malpractices.