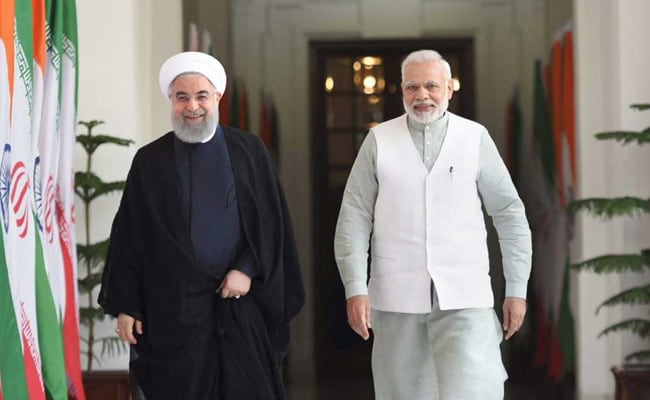 Highlights
Hassan Rouhani visits India a month after Israel's Benjamin Netanyahu
India and Iran will be hoping to iron out several issues
India's Chabahar port project in Iran may be discussed
New Delhi:
Iran's President Hassan Rouhani was greeted at the Rashtrapati Bhavan by Prime Minister Narendra Modi and Ram Nath Kovind today on the last of his three-day visit of the country. PM Modi said India-Iran ties have strengthened under Mr Rouhani's leadership. "We want to increase connectivity and trade. We want to strengthen our strong cultural ties. Landlocked Afghanistan has got a golden gateway in Chabahar... We will support the rail link," PM Modi said. India and Iran also signed nine agreements, including on easing visa rules and cooperation on medical sector, apart from a maritime agreement on Chabahar Port development. Mr Rouhani's visit comes a month after Israel's Prime Minister Benjamin Netanyahu was here, indicating India's delicate balancing act.
Here's your 10-point guide to this story:
PM Modi and Mr Rouhani held "substantive and productive discussion on cooperation in trade and investment, energy, connectivity, defence, security and regional issues," External Affairs Ministry spokesperson Raveesh Kumar tweeted, adding the meeting was on the theme of "civilizational connect, contemporary context". Foreign Minister Sushma Swaraj also called on Mr Rouhani.

India and Iran signed nine agreements -- on avoidance of double taxation and prevention of tax evasion, extradition, easing visa rules for diplomats, port lease and cooperation in health and agricultural sectors.

The two sides today signed a lease for the Shahid Beheshti Port at Chabahar in southeastern Iran. This will mean Iran leasing part of the area of the multipurpose and container terminal for 18 months to take over operation of existing port facilities as Part 1 of the port development.

India is already routing a consignment of 1.1 million tonnes of wheat to Afghanistan through Chabahar port. The $85 million port project, just 90 km from the China-sponsored Gwadar port in Pakistan, is significant as it gives a transit route between India, Iran and Afghanistan bypassing Pakistan.

An agreement on avoidance of double taxation and on prevention of fiscal evasion linked to income tax was also signed. It seeks to avoid the burden of double taxation between the two countries in order to promote flow of investment and services.

President Rouhani and PM Modi agreed to further intensify and diversify the existing high-level engagement through frequent and wider range of bilateral exchanges at all levels.

The two leaders stressed that terrorism cannot and should not be associated with any religion, nationality or ethnic group. They urged an immediate end to all support and sanctuaries enjoyed by terrorist groups and individuals and were of the view that states that aid, abet and directly or indirectly support terrorism should be condemned.

Oil and gas cooperation were the other issues on the table. India imports oil and gas from Iran, but negotiations have been pending on Farzad-B gas and oil fields in south Iran, which India has expressed interest in.

"Iran has abundant oil and natural gas resources and is willing to share them with India for its progress and prosperity of (its) people," Mr Rouhani said in Hyderabad. A 21-member delegation of ministers and businessmen from Iran is accompanying him and they are looking to seal a number of deals.

The Iranian President's first stop was Hyderabad where he visited the Salar Jung Museum, Golconda Fort and Qutb Shahi Tomb. This was his second visit to Hyderabad and the first after becoming Iran's President in 2013. Mr Rouhani, who is a Shia, visited the Sunni mosque Mecca Masjid and called for unity among Muslims. He joined people in offering prayers at the 17th century mosque.