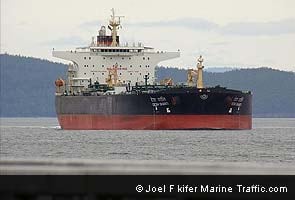 Tashkent:
Iran has described its recent detention of an Indian tanker as a "technical" matter and hoped that the issue will not come in the way of its strong relations with India.
This was conveyed to External Affairs Minister Salman Khurshid by Iranian President Hassan Rouhani during a half-hour meeting on the sidelines of the Shanghai Cooperation Organisation summit in Bishkek.
"He said that the two countries must look at means of engaging alternative routes," Mr Khurshid told reporters in Tashkent today.
Mr Khurshid travelled to Uzbekistan on Friday after attending the SCO summit in the capital of Kyrgyzstan.
MT Desh Shanti, belonging to the Shipping Corporation of India (SCI), was detained by Iran at Bandar Abbas Port on August 12 for alleged pollution. It was released on September 6.
The vessel, which can carry 1,40,000 tonnes of crude, was detained by the Iranian Revolutionary Guards Corps in the Persian Gulf while carrying oil from Basrah in Iraq to Visakhapatnam.
It was released after SCI, India's largest shipping company, submitted a letter of undertaking to the Iranian Ports and Maritime Organisation.
India has assured Iran that it will "proceed against any violators, as per Indian laws, if the evidence forwarded from your end justifiably warrants so".
Mr Khurshid and Mr Rouhani also discussed Iran's nuclear programme. Mr Khurshid said the Iranian leader endorsed restrictions under the Nuclear Non-Proliferation Treaty and accepted them.
"He said Iran has the right to explore nuclear energy for peaceful means, which is also India's position," Mr Khurshid said.
"Rouhani said Iran has no intention of violating the NPT or producing nuclear weapons," he added.
The two countries also agreed to push the northwest transport corridor.