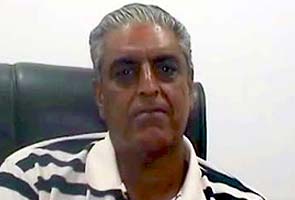 New Delhi:
Sanjay Jagdale, who just days ago quit his post as Secretary of the Board of Control for Cricket in India (BCCI), today met the Delhi Police. The Chief Executive Officer of the Indian Premier League (IPL) Sundar Raman accompanied Mr Jagdale.
The police say it hopes to get clarity from him on the agreement for revenue sharing between the Rajasthan Royals, the BCCI and the cricketers. Three members of the Royals including
S Sreesanth
have been arrested on charges of
spot-fixing
and conspiring with bookies.
Mr Jagdale resigned as the betting scandal in the domestic Twenty20 tournament or IPL peaked last week. The police say a notice was sent to Mr Jagdale before he stepped down. Along with Ajay Shirke, who quit as Treasurer of the BCCI, Mr Jagdale has spoken out against
N Srinivasan
who has defied calls to quit as president of the sports body.
Mr Srinivasan agreed at an emergency meeting in Chennai yesterday to step aside to allow an investigation to take place. (
Read
)
His son-in-law
Gurunath Meiyappan
was arrested on May 24 for allegedly taking part in illegal betting on the Indian Premier League (IPL) which is the subject of multiple police investigations.
Mr Meiyappan is a business executive for the most successful IPL franchise, the Chennai Super Kings, which is owned by 68-year-old businessman Srinivasan who has headed the BCCI since 2011.
Mr Meiyappan, who is still in custody, is being investigated for allegedly passing information to bookies and placing bets on the IPL. This is illegal under India's laws which ban gambling on all sports except horse-racing.