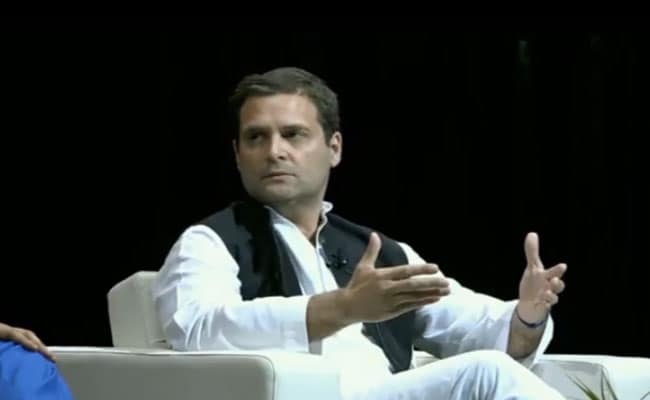 Kuala Lumpur:
Congress President Rahul Gandhi on Saturday said that internal bickering and generational fight within the Congress party and issues relating to corruption led to its defeat in the 2014 general election.
"Internal fight in the Congress party, generational fight in the Congress party, an older vision, a newer vision...and those just collided. We were fighting an election (2014 general election), but we had this internal conflicts going on.
"We had issues with corruption. And that just came together," said Mr Gandhi during an interactive session in Malaysia.
"We fired the guys in pretty much every single case. We believe in zero tolerance against corruption. 100 per cent," he added.
He said the Congress party is an ideology. "When you move away from the ideology, the party weakens. The Congress has to stand up to certain ideals. People get confused if we don't stand by these ideals. We have to place an alternative vision."
Talking about women representation in his party, Mr Gandhi said: "I have already told my party colleagues that I want to see at least 50 per cent representation by women within the party. It is a huge ask in a political environment, but this has to be done."
Attacking the Bharatiya Janata Party (BJP) government, he said it does not listen to the opposition parties on important issues like GST and land acquisition.
"When we approached the BJP on key issues, like land acquisition and GST, they didn't want to listen to us. Even BJP leaders have this issue with Prime Minister Narendra Modi. They don't believe in taking along everyone," said Mr Gandhi.
He also said that the BJP is dividing people in India, but it is going to cost the party in future.
"In my experience, if you don't carry people together, you will not be able to get things done. You need to build consensus," he added.
He also said that an anger is rising in India because of not enough jobs being created. "To my mind, jobs are going to come from SMEs, from farm mechanisation, from cold chains, from financing small and medium enterprises."
"Small and medium enterprises are the biggest job creators. Today in India, they are like orphans, with no protection or government support. GST and demonetisation have just finished this sector."
"We believe that there is space for public educational institutions. Scaling them up, and giving them much more autonomy is the next step. I would put in significantly more money. The BJP has reduced the allocations for education," he added.
He said: "It is pretty much impossible to make money being a farmer in India today. So the central idea is that without government support and protection, farmers cannot survive.
"Farms are not profitable and the manufacturing sector is not firing up. 'Make In India' is badly conceptualised. It is not connected to the existing skill base in India," he added.
Mr Gandhi also said that healthcare, diagnostics, health data, genetics and the hospital system need to be connected. "A strategy has to be put in place, and we can dominate global healthcare."