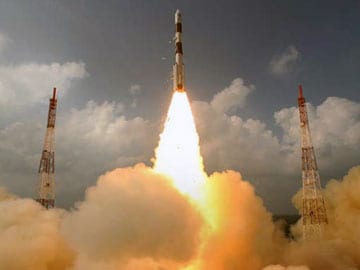 New Delhi:
India's mission to Mars, launched last week, hit its first problem early this morning, but scientists denied any setback to its first attempt at inter-planetary travel and said the satellite is "healthy."
The Mars Orbiter Mission or Mangalyaan had a flawless launch on Tuesday, for an 11-month trip to the Red Planet.
Lacking a large enough rocket to blast directly out of Earth's atmosphere and gravitational pull, the Indian spacecraft is orbiting Earth until the end of the month while building up enough velocity to break free.
On Monday, during a fourth repositioning to take it 100,000 kilometres or 62,000 miles from Earth, the thruster engines briefly failed, leading the auto-pilot to take over.
The Indian Space and Research Organisation (ISRO) says another attempt to push it higher will be made early on Tuesday morning.
ISRO Chairman K Radhakrishnan told NDTV today, "The space craft is healthy and it encountered a problem when a specific redundancy test was being conducted and it failed to reach the desired velocity it was to achieve." A failure analysis committee will examine why this problem happened, he said, but added that crucially, not much fuel was wasted in the failed attempt.
The 450-crore mission to Mars has made international headlines, at least in part for its cost-efficiency. It is less than a sixth of the $455 million earmarked for a Mars probe by NASA which will launch later this month.
More than half of all missions to Mars have ended in failure, including China's in 2011 and Japan's in 2003.