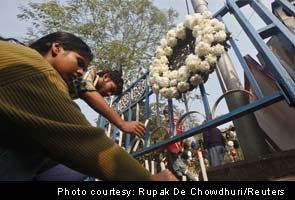 Singapore:
In life, perhaps, the Indian woman gang-raped so brutally in New Delhi, may have one day travelled to Singapore on the credentials she was gathering - a diploma in physiotherapy.
(Read this story on The Straits Times)
Indeed, she may well have been employed in Mount Elizabeth Hospital, where paramedical staff are drawn from all parts of Asia.
It wasn't to be.
Sedated to prevent the pain from being felt by her damaged brain and tortured innards, a ventilator machine performing the work for her lungs, surrounded by her parents, two brothers and senior staff of the Indian High Commission, the 23-year-old, who cannot be named, died at 4.45 am Singapore time on Saturday.
Nobody knows what made her get into that bus on the night of Dec 16. Maybe, in a massive city like New Delhi, where public transport is thin and trains and buses overcrowded, it was a relief to see a near-empty vehicle where a sly hand may not have squeezed her buttocks or an elbow deliberately brush against her breast.
The tragedy of that decision is being felt not just in India, but in Singapore and around the world.
At the Indian High Commission on Grange Road, walking distance to the hospital, lines of people began to form as the news spread, some just to huddle for silent comfort, others to sign a condolence book that had not yet been opened.
As happens too often in India, the official machinery that proved so woefully inadequate to protect her life was in abundance after her trauma and death.
In the Delhi hospital where she was initially treated, the queues to see even the junior-most doctor can be long. The Indian government, under pressure of public opinion , deployed the best specialists to treat her. When that wasn't enough, she was flown to Singapore with a blank cheque to the hospital, rooms at the Mandarin Orchard for her family and the force of Indian diplomacy at her service.
The Indian government is under fire from some doctors for its decision to send the battered girl here. Going by the torrent of questions on the issue faced by Indian High Commissioner TCA Raghavan yesterday, the sub-text is that New Delhi somehow passed the responsibility to Singapore.
That may be a trifle unfair to Dr Manmohan Singh, himself the father of three girls.
Six years ago, a Tamil Tiger suicide bomber made her way into Sri Lankan army headquarters and detonated herself, killing 11 and critically wounding then-army chief Sarath Fonseka. Gen Fonseka was evacuated to Singapore where surgeons succeeded in patching him together and sent him home in a few months. Other desperate cases, from Myanmar generals to Bangladeshi leaders, have been flown here for treatment.
India's national capital recorded 635 rapes this year alone - a rape every 14 hours - and that is just the number that are reported.
Until the Delhi male turns indignant at the sight of a fellow man molesting a woman, and acts to stop him, the problem will not go away.
No police force in the world has the manpower to post marshals on every bus and train in the city.