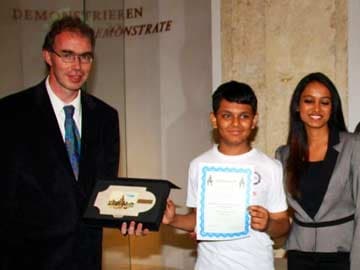 Mumbai:
The Indian team at the Mental Calculation World Cup 2014 has done the country proud, by not just winning the trophy but also breaking six records.
The eight contestants, (Shashank Jain, Priyanshul Chauriya, Granth Thakkar, Maitri Maniar, Rhea Shah, Aaditya Yadav, Shourya Maheshwari and Dhruv Shah) will now compete at the Mental Calculations and Memory Sports Olympics (Memoriad) which will be held in Las Vegas in 2016.
13-year-old Granth Thakkar, who won a gold and a silver medal told NDTV, "My coach trusted my talent and trained me. I have been awarded a gold and a silver medal and that is my coach's faith. I hope to better this performance and bring more laurels for my country in 2016."
The youngest contestant was ten-year-old Shourya Maheshwari who can solve the Rubik's Cube blindfolded, symbolizing a complete super sensory development.
More than 150 countries practice Mental Calculations as a sport. India is amongst the forty nations that have made it to the World Cup.
The Mental Calculations World Cup includes tasks like adding up rows of 10 digit numbers or naming the days of the week for any dates in the past 400 years. But the most intriguing part of the challenge lies in giving the answers in less than a second.
The Indian team battled USA, Japan, UK, Spain, Cuba, Bulgaria and Malaysia, to win these honours. "I have been coaching the team and gearing them up for the World Cup and their ability, dedication and focus is noteworthy", said Coach Gwendolen Norohna after the win.
Scott Flansburg, also known as The Human Calculator, told NDTV, "Gwendolen and her team of Mathletes has inspired me to try harder in the USA that would make our country as proud as they did for India. I believe Gwendolen will play a major role in making mental athletes the superstars they deserve to be. I am counting on her to help make the sport cool around the planet. What an honor to meet the entire team"
26-year-old Bandra resident Gwendolen has been decoding speed techniques for mathematical calculations and training contestants for more than seven years increasing their mental capacity, as well as improving their focus and concentration. She won the coach of the year 2014 and is the only female mental athletic coach present globally.
With this win India holds 18 records totally. For the country that introduced the world to zero, this achievement is a re-affirmation of its talent.