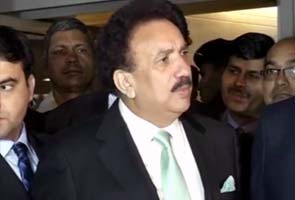 New Delhi:
Visiting Pakistani Interior Minister Rehman Malik on Friday assured Dalbir Kaur, the sister of death row convict Sarabjit Singh, that he will provide full assistance in the case related to her brother's release.
Dalbir Kaur met Malik while he was leaving after his meeting with Indian Home Minister Sushilkumar Shinde, on the first day of his three-day visit in new Delhi.
"The issue was also raised by Prime Minister Manmohan Singh and Shinde," Malik added.
"I have full sympathy... we will help fully," the minister said, even asking one of his officials to arrange a visa for Dalbir Kaur. He also asked her to get a fresh petition for Sarabjit's release with her when she comes.
Talking to reporters afterwards, Dalbir Kaur, who did not have a meeting scheduled with Malik and just came on the chance of getting to meet him, said his attitude was helpful and he gave good assurances that they will finally get justice.
Sarabjit, a resident of a border village in Indian Punjab, is lodged in Lahore's Kot Lakhpat prison for over 22 years.
His family claims that he had inadvertently crossed over to Pakistan in an inebriated state August 1990 and was arrested there. He hails from Bhikhiwind village.
He was later identified as Manjit Singh and accused of planting two bombs in Pakistan which claimed 14 lives. He was sentenced to death by Pakistani courts even though his family here claimed that he was innocent.
Pakistan had done a flip-flop in June this year after announcing that President Asif Ali Zardari had commuted Sarabjit's death sentence and that he would be released.
Later, the presidential spokesman said that instead of Sarabjit, another Indian prisoner, Surjeet Singh, who has been languishing in Pakistani jails for over three decades on spying charges, would be released.