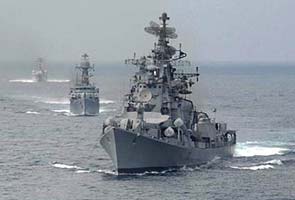 New Delhi:
The Indian Navy is practicing to operate in the South China Sea to protect the country's economic assets.
Speaking to reporters in New Delhi, Admiral D.K. Joshi said, "Where our country's interests are involved, we will protect them and we will intervene."
The Eastern Naval Command - which looks at India's eastern sea board and is likely to play a key role when the Navy is deployed in South China Sea - is also being strengthened.
China, which put its first aircraft carrier into service in September, has been locked in a series of disputes over strategic islands in the region, including with Vietnam and the Philippines over territory in the South China Sea.
The decision to use the Indian Navy in the region comes days after Chinese state media announced that the southern Hainan province, which administers the South China Sea, approved laws giving its police the right to search vessels that pass through the waters.
Also Philippines, Vietnam, Taiwan and India protested a map on a new Chinese passport that depicts disputed areas as belonging to China. The Philippines also issued a statement saying it wants Beijing to "clarify its reported plans to interdict ships that enter what it considers its territory in the South China Sea," the Associated Press reported over the weekend.
India signed a pact with Vietnam in October last year to expand oil exploration in the South China Sea.
Although Beijing has urged New Delhi not to push ahead with the project for the sake of "peace and stability", the Admiral said that the Indian Navy was ready to support state energy firm ONGC and had carried out exercises in preparation.
"In certain sectors ONGC Videsh has certain interests. It has energy exploration blocks, three in number, and since it is an area of Indian interests, the Indian Navy, should there be a need, would stand by," Admiral Joshi said referring to the firm's international subsidiary.
"If required we will intervene to protect (them)," he said and added that it is the navy's duty to protect India's sovereign assets.
Acknowledging the rapid modernisation of the Chinese navy, the navy chief said "It is actually a major cause of concern for us, which we continuously evaluate and work out our options and our strategies."
According to a report issued by the Pentagon in May, Beijing is pouring money into advanced air defences, submarines, anti-satellite weapons and anti-ship missiles that could all be used to deny an adversary access to strategic areas, such as the South China Sea.
(
With inputs from agencies
)