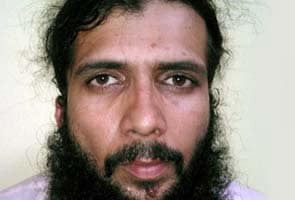 New Delhi:
A Delhi court today extended the NIA custody of Indian Mujahideen co-founder Yasin Bhatkal till September 22 after the probe agency said he was involved in "subversive activities" of causing bomb blasts in different parts of India since 2003.
Bhatkal and his close aide Asadullah Akhtar were produced before the court in muffled faces amid tight security after expiry of their seven-day NIA custody.
The NIA wanted Akhtar to be remanded to judicial custody. Its Hyderabad unit moved a separate plea seeking permission to formally arrest Akhtar in connection with the February 21, 2013 blasts in Hyderabad's Dilsukhnagar area.
The court allowed the Hyderabad NIA unit's plea and sent Akhtar to two days transit remand in connection with the case.
The twin blasts had claimed 16 lives and were triggered by IEDs planted near Konark and Venkatadiri theatres in Dilsukhnagar area of Hyderabad on February 21.
During the hearing, the NIA sought eight days custody of Bhatkal saying he had travelled to different parts of India in furtherance of the conspiracy to carry out terror strikes.
"The objective of the investigation of the case is primarily to uncover each and every aspect of the activity of IM and their hidden sleeper cells and operatives so that the number of terrorist activities being planned by the outfit could be prevented," the NIA said.
The NIA also told the court that Bhatkal had associates in Pakistan, Nepal and Middle East who were also involved in the case and more information regarding them have to be ascertained during his custodial interrogation.
"I have perused the case diary and am satisfied that the accused Mohd Ahmed Siddibappa alias Yasin Bhatkal is required for interrogation. The accused Yasin Bhatkal is remanded to police custody for four days upto September 22," District Judge I S Mehta said.