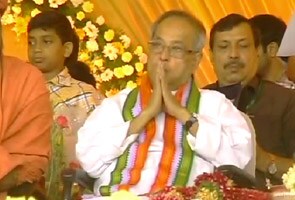 New Delhi:
Amid continued pandemonium in Parliament over the Opposition demand for a JPC probe into alleged irregularities in the allocation of 2G spectrum, Finance Minister Pranab Mukherjee on Friday quipped that perhaps Indian democracy has become a bit noisier.
"Perhaps our democracy has become bit more noisy. Time has come, a little silence is called for," Mukherjee said at the annual general meeting of industry chamber Assocham here.
However, he did not directly refer to the routine disruption of proceedings during the ongoing Winter Session of Parliament.
Parliament was adjourned today as well, even though it was the penultimate day of the Winter Session, as the Opposition refused to let items on the agenda be discussed unless its demand for a Joint Parliamentary Committee (JPC) probe into the alleged 2G scam was accepted by the government.
This was the 21st consecutive working day of Parliament that was lost to noisy scenes.