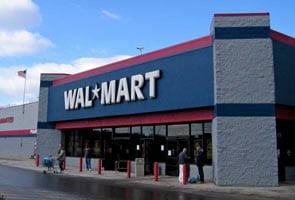 New Delhi:
A retired judge probing whether Walmart may have bribed Indian officials to gain easier market access said Wednesday he wants to ask the US supermarket giant more questions about its activities.
Justice Mukul Mudgal, named by the government in January to investigate if the chain broke any Indian laws with its lobbying, also said his report might be delayed to June from its April deadline depending on the response.
Walmart said in a routine disclosure report to the US Senate last year that it spent Rs 125 crore over four years on issues related to "enhanced market access for investment in India".
The report stirred a ruckus in India with opposition lawmakers, who oppose the chain's entry saying it will hurt local "mom and pop" stores, demanding an inquiry into whether Walmart made any illegal payments as part of its lobbying.
Justice Mudgal, who questioned some store executives including its Asia chief executive Scott Price last month as part of his inquiry, met with government officials in New Delhi on Wednesday to review the matter.
"We discussed the replies given by Walmart and decided to send some supplementary questions to them," Justice Mudgal told reporters after the meeting.
Walmart has strongly maintained it has broken no Indian laws and the US State Department has also stated that in its view no laws have been violated.
The timing of the report's submission "will depend on the replies given by Walmart and if at all a little extension is sought, it won't go beyond June", Justice Mudgal said.
Asked whether Walmart executives would be summoned again to New Delhi, Justice Mudgal answered: "Most probably not."
Last year, the Indian government allowed foreign supermarkets to establish joint ventures in the country as part of Prime Minister Manmohan Singh's drive to seek outside investment to perk up a sharply slowing economy.
Separately, Indian regulators are probing allegations Walmart may have violated foreign investment rules by investing in a domestic retail chain three years ago.
Walmart announced in March it expected to suffer financial losses amid its own internal probe into corruption scandals involving foreign subsidiaries from Mexico, India, Brazil to China.
In November, Bharti Walmart, a joint venture between Indian group Bharti Enterprises and Walmart, announced they had suspended "a few associates", its term for employees, to carry out a "thorough" internal investigation into the corruption allegations.
The world's biggest retailer has said it aims to open its first retail store in India within two years. Bharti Walmart already runs 18 wholesale stores in India, supplying retailers and restaurants.