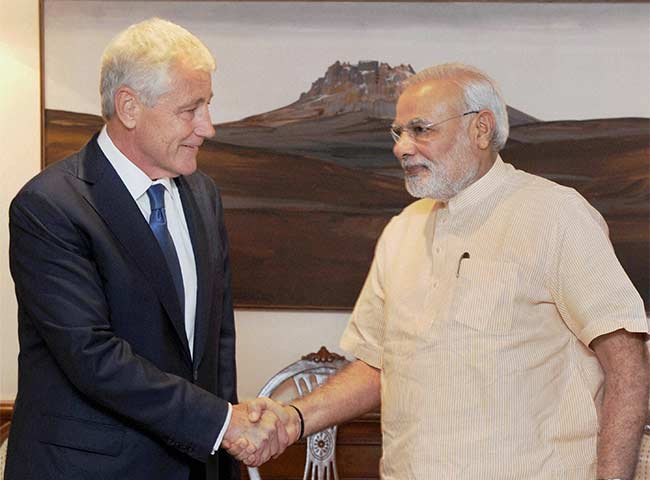 New Delhi:
India and the US agreed to renew the existing 10-year defence pact today and decided to start joint development and production of military hardware. The decisions were taken during US Secretary of Defence Chuck Hagel's meeting with Indian leaders including Prime Minister Narendra Modi.
The two decisions, in effect, signify a re-vitalisation of the Indo-US strategic relationship and an arrest of the slide the relationship had witnessed during the last years of the UPA-II.
Mr Hagel's three-day visit to India follows one by US Secretary of State John Kerry last week and is part of the build-up to PM Modi's talks with President Barack Obama in Washington in September. The trip comes as India is considering a $1.4 billion deal to buy at least 22 US Apache and 15 Chinook helicopters.
The 10-year defence pact, now called the "New Framework for the United States- India Defence relationship" was signed in 2005 and is slated to end next year.
"Both sides are keen to extend the agreement well before it ends," said a spokesman of the Ministry of Defence. The pact may be re-negotiated under a new name but like the existing agreement, will continue to guide the entire gamut of Indo-US military dialogue.
The decision to jointly develop and produce military hardware in India had been taken last year after a meeting between US President Barack Obama and former Prime Minister Dr Manmohan Singh. But the UPA-II had failed to operationalise and capitalise on the agreement.
Stressing on the issue, Defence Minister Arun Jaitley said, "Development of our own indigenous capabilities is a major objective that guides our present policy. In this direction, we have taken steps to raise the FDI cap in the defence sector."
India's long shopping list for US military hardware, however, did not come up for discussion. On the contrary, the discussions, as reported by NDTV earlier, centered broad issues and means to deepen ties.
Pentagon Press Secretary Rear Admiral John Kirby said among the issues that figured prominently were Iraq, Afghanistan, the threat of terrorism in the Middle East, and "security issues in the areas comprised by the Indian and Pacific oceans."