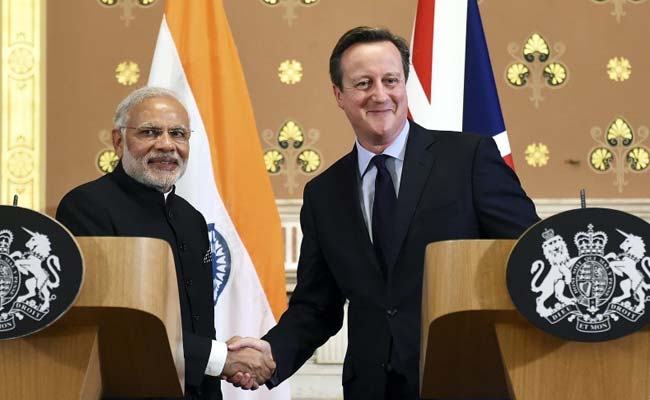 London:
India and the UK today announced deals worth 9-billion pounds as they signed a civil nuclear pact and decided to collaborate in the field of defence and cyber security besides launching a railway rupee bond.
British Prime Minister David Cameron described the relations between the two sides as a "new dynamic modern partnership" and reiterated his country's support for India's permanent membership of the UN Security Council.
"During this visit British and Indian companies are announcing new collaborations together worth 9 billion pounds," he said at a joint press conference with Prime Minister Narendra Modi.
"We want to become the number one partners to finance the immense economic vision Prime Minister Modi and make London the centre for off-shore rupee trading with the launch of 1-billion worth of bonds including the first government- backed rupee denominated bond," Mr Cameron added.
Prime Minister Modi highlighted plans for India to use London as a financial base for fundraising.
"We are going to use the London market for fundraising even more and I am happy to announced that we are set to launch a railway rupee bond in London. It is appropriate as the journey of Indian Railways started in the UK," Prime Minister Modi said.
Prime Minister Modi, who flew into the British capital on his much- anticipated three-day visit, was accorded a guard of honour by the 48-member F Company Scots guard accompanied by the regimental band of Irish guards.
Mr Cameron came out from his 10 Downing Street to receive Prime Minister Modi before the two leaders headed to the world's most famous political office for a nearly 90-minute dialogue.
Other senior ministers present include foreign secretary Philip Hammond, employment minister Priti Patel and business minister Sajid Javid.
On the Indian side, the delegation included the High Commissioner to the UK Ranjan Mathai, foreign secretary S Jaishankar and National Security Advisor Ajit Doval.
The UK ranks 18th in the list of India's top 25 trading partners and two-way trade in 2014-15 stood at $14.34 billion. The UK is the third largest inward investor in India, after Mauritius and Singapore, with a cumulative equity investment of $22.26 billion between 2000-2015.
Prime Minister Modi's talks with Mr Cameron will carry on at the British Prime Minister's country residence of Chequers in Buckinghamshire, where he is being hosted overnight.
"The conclusion of the civil nuclear agreement is a symbol of our mutual trust and our resolve to combat climate change. The agreement for cooperation in India's Global Centre for Clean Energy Partnerships will strengthen safety and security in the global nuclear industry," Prime Minister Modi said.
The Prime Minister said India attaches great value to defence and security cooperation with UK, including regular exercises and defence trade and collaboration.
"This cooperation will grow. I am also pleased that UK will participate in the International Fleet Review in India in February 2016. UK will also be a strong partner in India's defence modernization plans, including our Make in India mission in defence sector," Prime Minister Modi added.
He also announced to launch a new fast track mechanism for UK investments in India.
"We will also increasingly raise funds in London's financial market. I am pleased, but also believe it is natural, that we will issue a Railways Rupee Bond in London.
This is where the journey of Indian Railways began," he said.
Prime Minister Modi also thanked Prime Minister Cameron for the strong British support for India's permanent membership of the reformed UN Security Council and membership in the international export control regimes.
"Our partnership will not only create opportunities and increase the prosperity for our people, but also strengthen our two nations' capabilities to advance our many shared interests and address our challenges. These include peace and stability in Asia, especially in South Asia and West Asia; maritime security; cyber security; and, of course, terrorism and extremism," the Prime Minister said.
The UK ranks first among the G20 and India undertook 122 FDI projects in the UK in 2014-15. The UK attracts more Indian investment than the rest of the European Union put together.
Indian businesses in the UK employ around 110,000 people, 65,000 of whom work for the Tata Group.