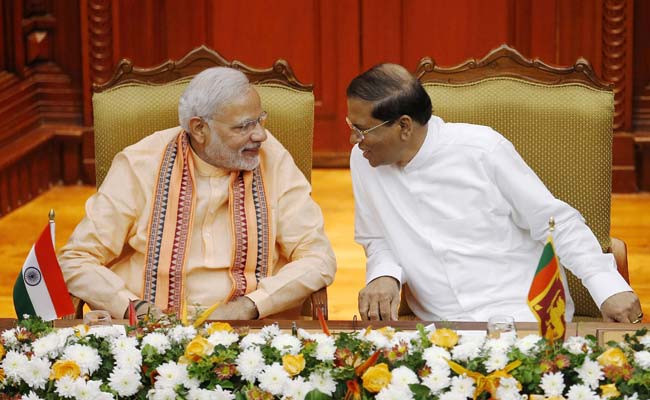 Colombo:
Sri Lanka's state-run Ceylon Petroleum Corporation (CPC) and the local subsidiary of Indian Oil Corporation have agreed to develop a strategic oil storage facility in Trincomalee, Prime Minister Narendra Modi said today.

Speaking on the first visit to Sri Lanka by an Indian leader in nearly three decades, Mr Modi said the project could help the island nation lying to India's southeast become a regional petroleum hub.

Sri Lanka is strategically located on a shipping route between Gulf oil exporters and Asian consumers, and the eastern port of Trincomalee served as a crucial Allied supply hub during World War II.

"We are also focusing on new opportunities. Today Lanka IOC and Ceylon Petroleum Corporation have agreed to joint development of the upper tank farm of the China Bay installation in the Trincomalee on mutually agreed terms," Mr Modi told reporters after meeting Sri Lankan President Maithripala Sirisena.


"A joint task force will be constituted soon to work out the modalities. India stands ready to help Trincomalee become a regional petroleum hub."
Lanka IOC, a subsidiary of Indian Oil Corporation, operates 15 storage tanks out of 99 in Trincomalee. The Sri Lankan government had been considering developing the rest to increase its fuel storage capacity.
Each of the storage tanks has a capacity of around 12,000 tonnes.
© Thomson Reuters 2015