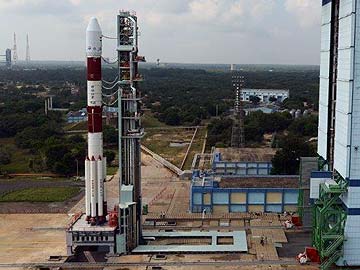 Sriharikota:
India will launch its first mission to Mars this afternoon from the Sriharikota spaceport in Andhra Pradesh, beginning a 300-day journey to study the Martian atmosphere. (
India's mission to Mars: full coverage
)
Mangalyaan, which means "Mars craft" in Hindi, is the size of a small car. It is golden in colour and will be carried by a rocket much smaller than American or Russian equivalents.
About 1000 scientists spent Diwali at work and also did not sleep last night, many of them performing last-minute health checks on the rocket that is now fully-fuelled and ready to go.
Lacking the power to fly directly, the 350-tonne launch vehicle will orbit Earth for nearly a month, building up the necessary velocity to break free from our planet's gravitational pull.
Only then will it begin the second stage of its nine-month journey which will test India's scientists to the full, five years after they sent a probe called Chandrayaan to the moon.
More than half of all Mars projects have failed, including China's in 2011 and Japan's in 2003. Only the United States, Russia and the European Union have successfully reached there.
The total cost of the project is 450 crores, one sixth of the cost of a Mars probe set to be launched by NASA in 13 days. (
India's mission to Mars: 10 facts
)
The 1,350-kilogram unmanned orbiter must travel 485 million miles over 300 days to reach the red planet next September.
"This is a technology demonstration project, a mission that will announce to the world India has the capability to reach as far away as Mars," said K. Radhakrishnan, chairman of the Indian Space and Research Organization.