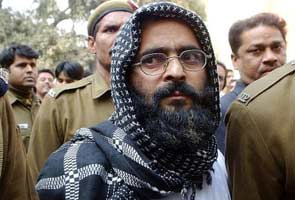 New Delhi:
The Lok Sabha has unanimously adopted a resolution against Pakistan whose parliament last night officially condemned the hanging in Delhi last month of Afzal Guru, who belonged to Kashmir.
The resolution promised any interference in India's internal affairs will be met "resolutely and with the complete unity of the nation." It also said Jammu and Kashmir "is and shall always be an integral part of India".
Earlier today, the BJP argued strongly in parliament for the government to end all dialogue with Pakistan in the wake of the Guru resolution and the attack earlier this week on a paramilitary camp in Srinagar, in which five jawans were shot dead in a suicide attack by terrorists. Home Minister Sushil Kumar Shinde informed parliament yesterday that the terrorists were most likely Pakistani. Islamabad has denounced that theory.
"If India can be kicked around in this manner internationally, there is something seriously wrong with how we are managing our affairs," BJP's Arun Jaitley said, referring to the tension with Pakistan and Italy's refusal to send back two marines to face murder charges for shooting two Kerala fishermen.
(Watch: Arun Jaitley slams govt's foreign policy)
In its resolution last night, the Pakistani parliament criticized India's decision to hang Guru, 43, for his role in the 2001 attack on the Indian parliament in which 13 people were killed. Guru was executed and buried in a top-secret operation at Delhi's Tihar Jail, triggering large protests in his home state of Kashmir.
The BJP said that Pakistan's condemnation of Guru's hanging shows its support for terror attacks on India. "Besides interfering in India's internal affairs, the resolution is an official statement by the entire polity of Pakistan endorsing the terrorist attacks," Mr Jaitley said.
In January, tension between New Delhi and Islamabad peaked after two Indian soldiers were found dead; one of the bodies had been decapitated. India said Pakistani troops had crossed the Line of Control near Jammu and attacked the soldiers. Pakistan denied the charges.