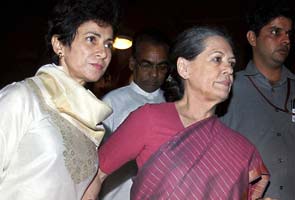 New Delhi:
Sonia Gandhi, leader of the Indian National Congress Party, left a parliamentary session and was admitted to the cardiology unit of a hospital here Monday after she became ill during a vote on a landmark food security initiative.
Janardan Dwivedi, the party's general secretary, told reporters at the hospital that Gandhi, 66, had suffered side effects from a medication, and was in good condition. Hospital officials reported that her condition was stable and there was no cause for concern, according to Press Trust of India, a news service.
Gandhi has thrown her support behind the food security bill, which a majority in India's lower house of Parliament approved Monday. If approved by the upper house, the measure will extend food subsidies to much of India's population, at an annual cost of around $20 billion.
After giving a rare speech to lawmakers, Gandhi was seen leaving Parliament with her son, Rahul, the party's vice president. Descending a flight of stairs, she appeared shaky and took the arm of a minister walking alongside her, before climbing into a waiting car.
Numerous party officials, including Prime Minister Manmohan Singh, visited her in the hospital Monday night.
Passing the food security measure would be a major victory for the Congress Party, as it would help shore up support in crucial constituencies ahead of parliamentary elections in 2014, and would offset some of the damage done by corruption scandals and a faltering economy.
Opposition parties slammed the bill as a pre-election stratagem that would shift the financial burden to state governments, and many parliamentary debates on the subject have descended into shouting matches.
Gandhi told lawmakers Monday that "it is not a question of how we find means to implement the food bill - we have to find the way."
"We have, today, an opportunity to transform the lives of tens of millions of our people, and I believe that we must, together, rise to the occasion, set aside our differences, and make a firm act of commitment to their welfare and well-being," she said.
Gandhi's health was the subject of rumor and speculation in 2011, when she left India to undergo surgery in the United States. Despite complaints by some news organizations, party officials disclosed no details about her condition at the time, saying only that the surgery had been successful.
Gandhi is the Italian-born widow of Rajiv Gandhi, the former prime minister assassinated in 1991. She is regarded as the country's most powerful politician, and served as an important campaigner during the 2004 parliamentary elections. She has campaigned less often since then, allowing Rahul to appear at many events in her stead.
(Hari Kumar contributed reporting)
© 2013, The New York Times News Service