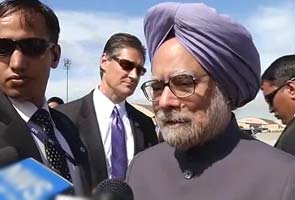 Washington:
Prime Minister Manmohan Singh arrived in Washington on Thursday on a two-day "working visit" to meet President Barack Obama at the White House on Friday, saying India needs US on its side as it gives a new added thrust to development programmes.
Describing US as an "important strategic partner", Dr Singh said during Mr Obama's regime, "We have taken several steps to widen and deepen this partnership in diverse ways."
During this visit the two sides will review the progress that has been made and also what further can be done to give "added meaning and content to this partnership," he told reporters soon after his arrival at the Andrews Air Force Base where he was received by acting deputy chief of protocol Rosemarie Pauli.
Dr Singh and Mr Obama are expected to discuss a wide range of issues with focus on defence, economic and regional issues.
"The US is one of India's most important trading partners. It is also an important provider of investment and technology support for India's development and we need the United States on our side as we give a new added thrust to our development programmes."
The Prime Minister said during his coming meeting with Mr Obama, the two sides will review the international situation.
"We will also review the international situation, particularly with regard to international economic situation, situation in the region, South East Asia, the Middle East, West Asia and in all these areas.
"We would discuss ways and means in which India and the United States can keep each other informed about the concern of the other party," he said.
The Prime Minister is accompanied by his wife Gursharan Kaur, National Security Advisor Shivshankar Menon and Foreign Secretary Sujatha Singh.
External Affairs Minister Salman Khurshid would join Dr Singh from New York later in the day.
The White House said Mr Obama is "looking forward" to the meeting with Dr Singh at the Oval Office tomorrow.
Following the meeting, the two leaders would issue a joint statement in a brief media interaction.
Later, Mr Obama would host Dr Singh for a lunch.
First Lady Michelle Obama would be hosting Ms Kaur for a private tea at the White House.
Ahead of the visit, the White House praised the role of Dr Singh in transforming the India-US relationship.
Dr Singh is scheduled to leave Washington for New York immediately after his meeting with Mr Obama.
In New York, Dr Singh would address the UN General Assembly session on Saturday and is expected to meet his Pakistani counterpart Nawaz Sharif on September 29.
He is scheduled to return home on Monday.
Follow NDTV for latest election news and live coverage of assembly elections 2019 in Maharashtra and Haryana.
Subscribe to our YouTube channel, like us on Facebook or follow us on Twitter and Instagram for latest news and live news updates.