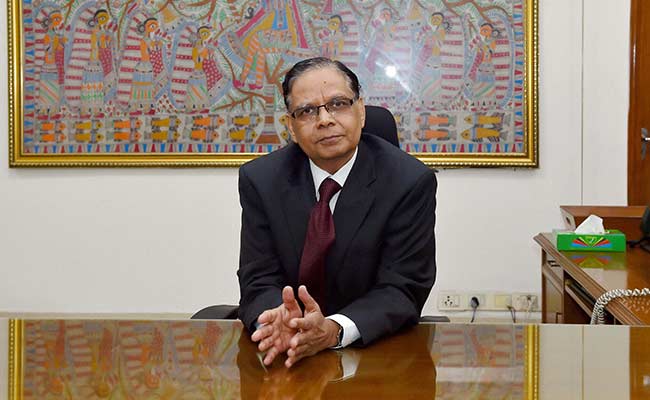 United Nations:
India's success in sustaining high growth and poverty alleviation will substantially contribute to achieving the ambitious Sustainable Development Goals, a top policy adviser to the Indian government has said.
"Improving the lives of 1.4 billion Indians would make a major dent in the goal of improving the lives of all humanity. The process of doing so will bring forth technologies and pathways to progress that can be shared with other developing countries to enable them to also share in the increased prosperity," NITI Aayog Vice Chairman Arvind Panagariya said yesterday.
Dr Panagariya was speaking at an event co-organised by RIS (Research and Information System for Developing Countries) and Permanent Mission of India.
He said India's success in sustaining high growth and poverty alleviation will contribute in substantial measure to the success of the SDGs.
He stressed that the importance of robust economic growth cannot be overstated since growth depends on well-functioning infrastructure and policies that enhance productivity.
"Without it, none of our objectives, be it eradication of poverty, empowerment of women, provision of basic services or even protection of environment and reversing climate change, would be possible by 2030.
In the end, growth is what creates employment opportunities at decent wages for the masses thereby giving them the means to access on their own basic amenities of life such as food, clothing, housing, education and health," he said.
Dr Panagariya cited the example of the 8 per cent growth over a decade that enabled India to introduce and sustain the Mahatma Gandhi National Rural Employment Guarantee Scheme and greatly expand its public distribution system through the National Food Security Act.
Dr Panagariya underlined that with political will and right set of policies, it is "entirely possible" to end poverty within a generation.
Citing the example of South Korea, Singapore and China, he said India and many more countries in Asia, Africa and Latin America are now poised to do the same in the forthcoming decade and a half.
"Therefore, the end to poverty by 2030, which subsumes the provision of essential amenities for a dignified existence such as food, clean water, sanitation, electricity, good health, literacy, transportation and a roof over the head, is rightly on top of the 2030 SDG Agenda," he said.
"The political vision contained in the Leaders' Declaration to be adopted on September 25 speaks of a relentless focus on ending poverty as our fundamental target," he said.
Dr Panagariya said Prime Minister Narendra Modi has embarked upon a policy agenda that would return India to the high-growth trajectory.
"Because the poor are heavily concentrated in agriculture, accelerating growth in this sector can bring the fastest relief to them," he said, adding that the government has begun to reorient public investment in ways that would raise productivity while economising India's scarce water resources.
Emphasis on micro irrigation, soil cards, better seeds and improved extension programme are all steps in this direction, he said, adding that action is also under way to bring the Green Revolution to the eastern states.
He, however, said that agriculture in India accounts for only 17 per cent of the GDP and this share has been steadily declining.
Dr Panagariya said the small and declining share cannot support half of the workforce of India as it currently does.
"There is acute need to create good jobs for these young aspirant Indians," he said as he underscored Prime Minister Modi's "critical" economic strategy 'Make In India'.
"An end to the bureaucratic paralysis, improving the ease of doing business, paving the way for the reform of labour and land acquisition laws by the states, skill development, industrial corridors and smart cities are all essential ingredients in making the 'Make in India' campaign a success," he said.
He noted that the sequence of growth first and redistribution later is not a choice in today's highly
globalised and democratic world.
"Rising prosperity must be shared with minimal lag while also ensuring environmental sustainability. As the world's largest democracy, India has recognised this fact and its successive governments have ensured that rising incomes are accompanied by rising social expenditures with sufficient attention paid to the protection of the environment," he said.
He added that as in the case of the millennium development goals, the draft agenda of the SDGs seemed vulnerable to the criticism that it mixes up targets and instruments.
"I imagine that as the debate on SDGs unfolds, these will remain grounds for criticism by economists and others in the years to come. Yet, these criticisms would be misplaced," he said.
He said that sharp focus and precision is often not possible in a negotiated document that must balance political differences across a wide spectrum of views represented by the large number of member states at different levels of incomes.
He added that the agenda also correctly places emphasis on the sustainability of national efforts, for higher growth, cleaner energy and responsible lifestyles and consumption patterns.
"All of these are important priorities for India as well," he said.