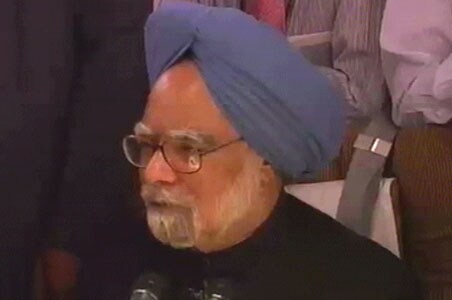 New Delhi:
Clearing backlog of cases is the biggest challenge for the judiciary, and India has the largest number of pending cases in the world, said Prime Minister Manmohan Singh on Sunday.
The Prime Minister also said that vacancies in the judiciary are the other big problem, adding that meritorious judges need to be appointed and vacancies filled in soon.
Over three crore cases are pending in courts across India and both the Prime Minister and Chief Justice of India K G Balakrishnan expressed their concern over huge pendency of cases and judicial vacancies.
"Three thousand posts of judges vacant due to delay in recruitment. The Chief Justice of India should fill up the vacancies without any delay," said the Prime Minister.
However, both skipped the controversial issues of corruption in judiciary and declaration of assets by higher court judges which the government was forced to defer in the last session of Parliament because of stiff opposition from MPs across party lines.
The Prime Minister and the CJI were speaking at a conference of Chief Ministers and Chief Justices of High Courts in New Delhi which comes in the midst of a national debate on instances of judicial corruption and raging controversy over declaration of assets by judges of higher judiciary.
The PM also said that the government has agreed to set up additional 71 CBI courts in the country.
The Chief Justice of India who was at the judges' meeting with the chief ministers, refused to be drawn into the judges' assets bill controversy.
Number of case pending in various courts in India:
Supreme Court: 52,000
High Courts: 40 lak
Trial Courts: 2.7 crore