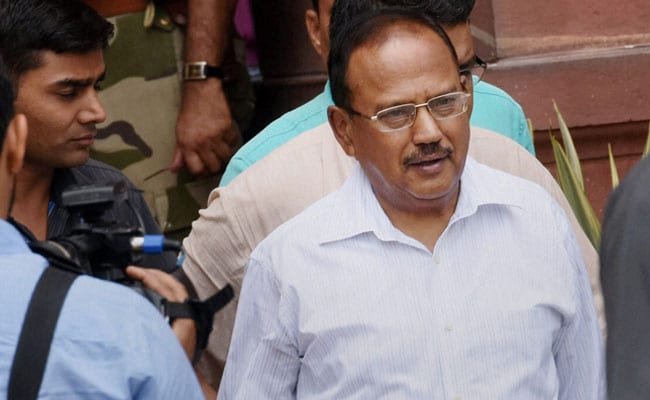 Highlights
Ajit Doval and General Nasser Khan Janjua talked on Sunday
Pakistan had made the announcement about the exchange this morning
Mr Doval reportedly gave Mr Janjua the details of the surgical strikes
New Delhi:
Unlike Pakistan, India has chosen to downplay the exchange between its National Security Advisor Ajit Doval and his Pakistani counterpart General Nasser Khan Janjua, who spoke to each other yesterday.
"The NSAs do remain in touch" ordinarily, a senior government official told NDTV.
Pakistan had made the announcement about the exchange this morning, it came from Sartaj Aziz, foreign affairs adviser to Pakistan Prime Minister Nawaz Sharif, who said this was their first interaction since the recent tension.
It is understood that Mr Doval gave Mr Janjua the details of the surgical strike carried out by the Indian Army last Friday, during which Indian soldiers destroyed five terror launch pad and two facilities of the Pakistan Army in a simultaneous strike inside Pakistan Occupied Kashmir. Pakistan has denied that such strikes took place, claiming that India has violated ceasefire along the Line of Control instead.
India is also understood to have reiterated that Pakistan must return the India soldier - Chandu Babulal Chauhan -- who had inadvertently crossed the Line of Control on Friday. A section of Pakistani media had reported that as per the Pakistani army, the soldier had been captured during the ceasefire violation.
Pakistan had also been censured following the terror attack in Uri and by condemning cross-border terrorism, a large section of the international community had sided with India after the surgical strikes.
Initially, the two NSAs had clicked well, with General Janjua offering to work with India on terrorism. The relationship, however, soured after Pakistan failed to investigate the leads provided by the National Investigation Agency into the Pathankot airbase attack.
Despite political criticism, India, in a rare gesture, had allowed Pakistani investigators to visit the Pathankot base.
Top sources told NDTV that General Janjua's ability to deliver on terror related issues declined considerably as the Pakistani Army asserted itself and Pakistan Prime Minister Nawaz Sharif found himself increasingly cornered with allegations of corruption.