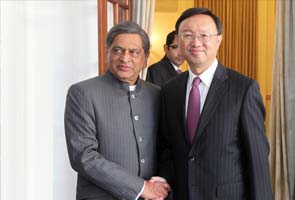 New Delhi:
In what comes as a huge confidence-building measure, India and China today decided to begin a dialogue on maritime issues. The proposal for talks, a first for both neighbours, was mooted by the visiting Chinese foreign minister, Yang Jiechi, during his meeting with his Indian counterpart, SM Krishna.
Mr Jiechi, who arrived in Delhi yesterday, is on a two-day state visit to India.
The dialogue, the mechanism for which is yet to be worked out, is crucial given the fact that it comes in the wake of the Chinese navy increasingly trying to assert itself in the Strait of Malacca and the Indian Ocean region. Beijing has decided to increase its naval capabilities following years of expansion in its armed forces while India has also re-prioritised its strategy by ordering more ships.
More significantly, Sino-Indian ties have been strained recently with China expressing its objections to India's oil and natural gas exploration in the South China Sea. India, on its part, has refused to suspend the exploration activities.
The latest initiative to include maritime issues as part of bilateral talks would thus, serve to reduce the tension ahead of a crucial visit to India by Chinese premier Hu Jintao, scheduled later this month.
Both ministers also discussed several key issues including Arunachal Pradesh, Tibet and the recent ill-treatment meted out to Indian traders by Chinese authorities.
"Every possible issue that is raised whenever India-China dialogue takes place were raised and we have understood each other's position and we have understood the perspective and we will continue to exchange these," Mr Krishna told reporters after the meeting.
Although ties between India and China have improved in recent years, tensions still remain over Arunachal Pradesh. Recently, China had objected to Defence Minister AK Antony's visit to the state.
Meanwhile, a group of Tibetans held protests this morning in the national capital. They were protesting the Chinese crackdown in Tibet.