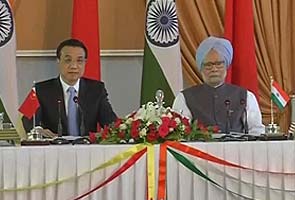 New Delhi:
India is an "important neighbour", Chinese Premier Li Keqiang said on Monday while stressing that the main aim of his visit was to increase areas of mutual interest and intensify cooperation.
At the end of formal talks between Prime Minister Manmohan Singh and Mr Li, India and China signed eight bilateral agreements including key pacts in trans-border river management and trade.
A key highlight of the talks and the joint statement is a consensus over maintaining peace along the border between the two countries, which has led to diplomatic flare-ups in the past, most recently in April when Chinese troops intruded into Indian territory and set camp.
"The two sides shall work together to maintain peace and tranquility in the border areas in line with the previous agreements," the statement says.
(Read: PM's full statement)
In a bid to enhance mutual trust and advance what has often been a testy relationship, the two countries have pledged to foster mutual sensitivities for each other's concerns and aspirations and view each other as partners for mutual benefit and not as rivals or competitors.
Beijing and New Delhi have also committed to "further strengthen cooperation on trans-border rivers." China has said that it is willing to step up communication on hydrological information, which would help India in managing the flooding of the Brahmaputra better.
On the economic front, the two sides have agreed to "consider the potential for a bilateral Regional Trade Arrangement," and take measures to redress trade imbalance.
The Chinese have also agreed to provide greater facilitation to Indian pilgrims on the Kailash Manasarovar Yatra.
Soon after their talks ended, the two leaders shared some details of the discussions and their thoughts with the media. Mr Li emphasised that India and China had "more shared interests than differences" and that neither side would do "anything that damages the other's interests".(
Highlights
)
Dr Singh said that he and Mr Li had agreed that peace must be preserved along the border and to that end, special representatives from both sides would meet soon "seeking early agreement for fair, reasonable, and mutually acceptable boundary settlement."