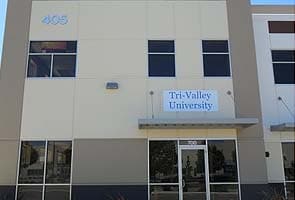 Washington:
After their university was shut down on charges of a massive immigration scam, Indian students in California have met the Consul General in San Francisco for help.
Ninety-five per cent of the students at Tri-Valley University (TVU), dubbed a "sham university" by US immigration officials, were reported to be Indian, most of them from Andhra Pradesh. A group of them met Consul General Sushmita Gongulee Thomas on Thursday.
Thomas said she has asked the US government to explain the legal status of these students.
"We are seeking factual position (from the US Government) on the status of these students and how these students can be helped in transfer to other colleges, so that they can complete their studies," Thomas told PTI.
According to a federal complaint filed in a California court last week, the university helped foreign nationals illegally acquire immigration status.
On January 25, Thomas said, she wrote to the Office of Foreign Mission in San Francisco and the US Immigration and Customs Enforcement seeking detailed information on this case.
She hasn't received any response from them so far, Thomas said.
Hundreds of Indian students, mostly from Andhra Pradesh, could be deported from the US after authorities raided and shut down Tri-Valley University in the Silicon Valley on charges of a massive immigration fraud.
"According to the group that came to the Consulate, a large number of students had not violated any visa or immigration rules and were unaware of the fraudulent nature of the school. Their primary concern is to complete their education for which they feel that they should be allowed to seek admission in other schools," said Ashok Kumar Sinha, Consul (Community Affairs), Indian Consulate San Francisco.
"They are also concerned about reports in the media that indicate that all students of the TVU were part of the scam. Many of the TVU students, specially the more recent ones and some who transferred from other accredited universities, were unaware of the true nature of the university and have suddenly found themselves to be victims," Sinha said.
Sinha said the Consulate is taking up the matter with Immigration and Custom Enforcement (ICE).
"The Consulate, on behalf of those students who have not violated any immigration rules, is taking up the matter with ICE to find out how these students can be helped so that they can seek admissions in other universities or can go back honorably to India without forfeiting their chance of ever being able to return to the US," he said.
"The Consulate is also trying to enlist the support of local immigration attorneys to answer immigration related questions of these students," Sinha said.
Investigations by ICE found that on paper, students were admitted to various residential and on-line courses of the university, and lived in California. However, in reality, they "illegally" worked in states Maryland, Virginia, Pennsylvania, and Texas.
For a student to maintain an active immigration status, they must show proof that they are making reasonable process toward completing coursework and physically attend classes.
Unconfirmed reports said that nearly two dozen students have been arrested or detained so far in various parts of the country.
Meanwhile, the Andhra Pradesh government has taken up the matter with the Centre for immediate help to the affected students. (
Read: Andhra Chief Minister on students affected at the Tri-Valley University
)