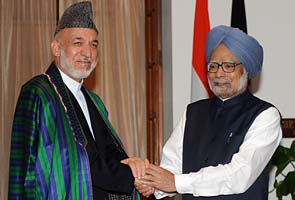 New Delhi:
Afghan president Hamid Karzai and Prime Minister Manmohan Singh on Tuesday finalised the details of a strategic partnership between the two nations. A total of three bilateral agreements were signed. Mr Karzai is on a two-day trip to India.
"Our cooperation with Afghanistan is an open book", said the Prime Minister at a joint press conference. India will stand by Afghanistan as the country prepares for its future after the withdrawal of international forces, said Dr Singh.
In that light, of crucial significance - among a host of other things - in the Strategic Partnership document signed between the two neighbours is India agreeing to train, equip and build capacity for Afghan security forces, including the Army, sources have said. So far, only individual officers from the Afghan military took courses at premier defence institutions in India.
This could further bolster ties between the two nations and give New Delhi a major strategic edge in the trouble-torn region. This given Pakistan's insistence on India not being allowed to be involved with the Afghan army at all. Incidentally, Islamabad had earlier proposed to train the Afghan army. New Delhi, so far, has been actively involved and is a major player in reconstruction and rehabilitation efforts in Afghanistan.
Mr Karzai said that through the document of strategic agreement - a first for Afghanistan with any country - the two sides have "put in words" an already-existing active partnership.
The Strategic Partnership between the sides is based upon the principles of sovereignty, equality and territorial integrity of States, non-interference in their internal affairs, mutual respect and mutual benefit, it said, adding it is "not directed against any other State or group of States."
Appreciating India as the "steadfast friend" of Afghanistan, Mr Karzai said New Delhi does not see his country as one of "terrorism and violence" but as a country trying to live in peace with its neighbours.
Mr Karzai's visit comes amidst tensions with Pakistan after former Afghan President Burhanuddin Rabbani was assassinated nearly two weeks ago. An Afghan government commission probing Mr Rabbani's killing had alleged that Pakistan's spy agency, the Inter-Services Intelligence (ISI), had prior knowledge of the assassination plot - believed to be carried out by the Taliban. Mr Rabbani was at the forefront of trying to broker peace with the insurgent group. Islamabad has denied its involvement in Mr Rabbani's killing.
Both leaders condoled the death of Mr Rabbani with the Prime Minister asserting his "brutal assassination should serve as an occasion for all of us to strengthen our resolve to jointly confront the menace of terrorism that threatens to undermine the security and stability of our region".
Apart from the Strategic Partnership agreement, a Memorandum of Understanding (MoU) was signed between the Ministry of Petroleum and Natural Gas and Afghan Ministry of Mines on cooperation in the field of development of hydrocarbons. Another MoU on cooperation in the field of mineral resources was signed between the Indian and Afghan Ministry of Mines.
Mr Karzai's visit comes after Prime Minister Singh visited Kabul in May.
(With PTI inputs)