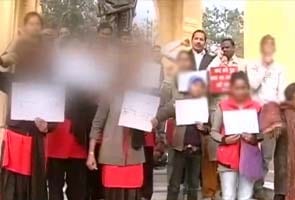 Allahabad:
Ever since Akhilesh Yadav came to power in Uttar Pradesh on the promise of delivering better law and order in the state, 40 minor girls have been raped and killed in the last 10 months. The state government has now decided to impose the stringent National Security Act against these men hoping it will deter others from committing such barbaric crimes against women.
On Monday, when there was anger on the streets of Delhi demanding justice for Amanat (NOT her real name), the gang-rape survivor, on the streets of Allahabad a young couple were beaten up in full public view because they objected to obscene remarks by engineering students. Six students have been arrested.
But now the government has finally decided to book such men under the stringent National Security Act which allows the government to keep them behind bars for a year. The law has already been used against eight alleged rapists. "Very soon we will deliberate over what we can do to stop these incidents from happening," assured the state Home Secretary J P Gupta.
Last month, Akhilesh Yadav launched the 1090 helpline service for crimes against women. Ever since it was launched, the phones haven't stopped ringing at the nodal call centre in Lucknow. 61,000 women have already dialled in seeking help and support. Almost 15,000 of them have complained of obscene phone calls from anonymous men.
The voices for capital punishment for rapists are getting louder after the Delhi gang-rape incident. A Bareilly court on Friday set an example by sentencing a man to death for raping and killing a 10 year old girl.
S K Tyagi, a government lawyer who fought the case and got the rapist convicted, says that "the case was considered rarest of rare because the accused raped and killed a 10 year old girl. Which is why the courts sentenced him to death."
But such judgements are few and far between. And perhaps what the state needs is faster trials and more convictions to restore a sense of security for the women.