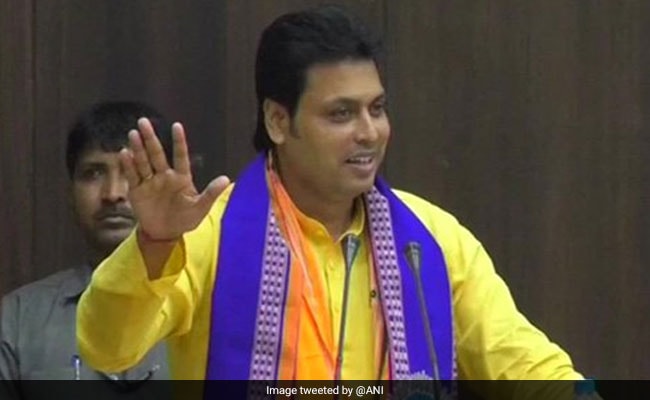 Agartala:
Several political parties of Tripura today criticised the reported proposal of a government committee to replace Kokborok, the language of indigenous people of the state, with Hindi in local television news bulletins and demanded its immediate rollback.
The Scheduled Tribe wing of Tripura Congress on Saturday claimed that minutes of a meeting of the Circulation Committee under the Department of Information and Cultural Affairs (ICA) had proposed to introduce Hindi by replacing Kokborok in news bulletins to promote nationalism.
The government, however, said no such decision was taken.
Addressing a press conference here this evening, Pradesh Congress president Birajit Sinha said his party was opposed to any move that would undermine the priority of Kokborok language.
"Kokborok is the language of the indigenous people of the state and it must have priority in this state. We want all languages to be promoted and developed. This cannot be done by stopping Kokborok," Sinha said.
He demanded that the Indigenous Peoples Front of Tripura (IPFT), the BJP's partner in the state government, clarify their stand on the issue.
IPFT vice-president Ananta Debbarma said his party would oppose any proposal to replace Kokborok with Hindi in news bulletins.
"Kokborok must stay in Tripura," Debbarma said adding that it will be difficult for the indigenous people of the state if Kokborok is replaced.
CPI(M) state secretary Bijan Dhar also criticised the reported proposal and said it would lead to fascist and aggressive nationalist tendencies.
"The Left Front government first recognised Kokborok as a state language in 1978. The language was introduced in schools and colleges as part of the curriculum. We want equal status of all languages. Such a proposal should be immediately withdrawn," Dhar told a press conference this evening.
The CPI(M) leader also said Hindi could be used as link language between speakers of different languages.
The fourth point of a three-page minutes of Circulation Committee's April 6 meeting, which was made available to reporters by Congress leaders read, "It has been proposed that instead of using Kokborok as a medium of news, Hindi may be introduced as it would promote nationalism and people from outside state also could follow the news."
ICA Director Bishnupada Das said the meeting did not involve any proposals regarding replacing Kokborok with Hindi in news bulletins.
"The news channels were asked to furnish details about which languages they were able to use in their news bulletins, -- Kokborok, English, Hindi and other languages. These details would be needed for categorisation of the channels," he said.
No decision was taken to drop Kokborok from news bulletins, said Das, who is also chairman of the Circulation Committee.
BJP spokesperson Mrinal Kanti Deb today said, "It's not an official notification. Minutes never denote official decision."
He said his party was working to promote Kokborok.
"Recently, a committee, headed by MLA Atul Debbarman, has been appointed in order to develop the language," he said.