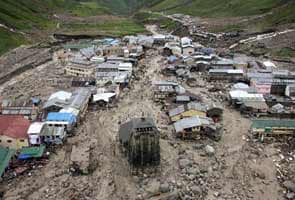 Kedarnath:
A grand puja to mark the symbolic opening of the historic temple dedicated to Lord Shiva, the revered Kedarnath temple, began at 7 am today. Chief priest Bheema Shankar conducted the rituals.
"We will do the shudhi (purification) first, we do know that lots of people want to do kar seva, but they can all come once things settle down," Chief priest Bheema Shankar said ahead of the opening.
The ceremony is expected to go on for about four hours. The elaborate puja is being held to say all-is-well and it is time to try and move back to normal life.
The temple has been decorated with flowers and wears a festive - a stark contrast from what was left of it after flash floods and torrential rain hit Uttarakhand in June. Nearly 300 workers from the Public Works Department (PWD) worked tirelessly for the opening.
PWD workers have succeeded in clearing debris from only 50 metres around the temple. The path to the temple's sanctum sanctorum has also been cleared. However, the destruction near the temple will easily take months to clear.
The area has been cleared of bodies, however, the administration will still continue its sensitive task of scanning the area for more. With bad weather hampering reconstruction, the administration is planning to get high-end excavators to remove debris.
With no proper permanent structures at Kedarnath right now, tents have been put up to accommodate the PWD workers, officials and some journalists who were lucky to arrive here. Limited power supply from a nearby micro hydel project has come in as a blessing as captive power is really hard to generate.
With the supply of drinking water also limited, the administration has restricted the entry and visits are allowed only through passes issued by the state government.