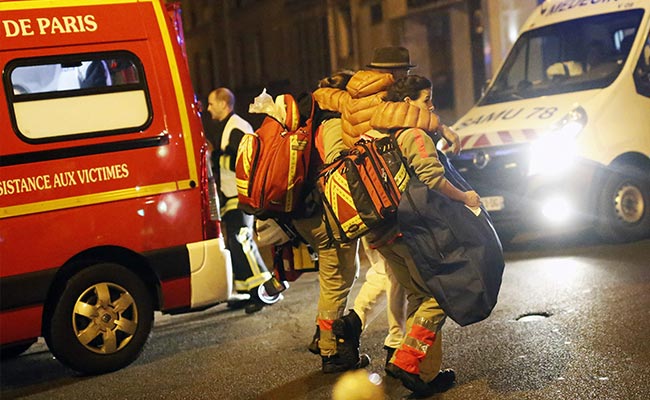 Mumbai:
With over 127 dead in Paris attacks, what has caught the eye of investigators is the similarity to the 2008 Mumbai terror attack.
Speaking to NDTV, former Mumbai Police Commissioner D Sivanandan, who also headed Maharashtra's Intelligence department during the 26/11 Mumbai attacks said, "In cities like Paris, New York, Mumbai, Tokyo, the major problem is the exploding population, anonymity and the cities being international in character. In such cities people can arrive anonymously and indulge in an activity and get away with it."
Such terror attacks are always planned at places with high footfall which are soft targets. A high-profile target means maximum impact with minimal resources like the November 2008 terror attack at the Taj Hotel in Mumbai.
Joint Commissioner of Police (Law & Order), Deven Bharti who was a part of the investigation into the 26/11 attacks says. "Prima facie the similarity is this- the involvement of multiple targets, indiscriminate firing and use of IEDs. This kind of attack was first seen in Mumbai and today it has been improvised in Paris. Modus operandi also seems to be similar."
Hence, within hours of the terror strike in Paris, a high alert was declared in Mumbai. Joint Commissioner of Police (Crime) Atulchandra Kulkarni told NDTV, "The Mumbai attack gave a view to everyone in the world to be prepared in a better manner. Immediately after the Paris attack, we have taken necessary steps in Mumbai. We have asked all the police station in-charges to remain in their area. We have also asked them to take a relook at the security arrangements made for various places with higher footfalls like malls, railways stations etc."
Mr Sivanandan said, "There were six intelligence pieces that said that sea-bound attacks are going to take place and hotels like Taj, Oberoi, Marriott will be attacked. Over a period of time, bits and pieces intelligence were coming in. But there was no actionable intelligence which came.
Security agencies claim the influence of the Islamic State in India is limited to the indoctrination of a few who chose to go to Iraq and Syria to join ranks with them.
However, though very few in numbers, they can create trouble in future. The responsibility now on anti-terror agencies is to bust these terror cells to thwart another 26/11 type attack on India.