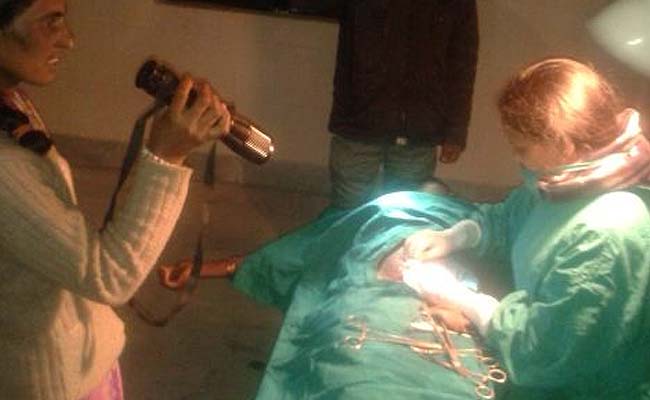 Chatra, Jharkhand:
At a state-run health clinic, guided by torchlight, surgeons in Jharkhand sterilised nearly 40 women because there was no power on Wednesday night. The women were then moved out of the operating theatre and made to lie down or sit on the ground in a corridor. There were no stretchers or blankets; no attendants to offer any post-operative care.
An inquiry has been launched to determine who is responsible for the negligence that was filmed by a local journalist in the Chatra district.
"The lights had gone out at the operation theatre. But the torches were only being used for dressing. we have ordered an enquiry regarding the bad arrangements," said Dr C P Singh, senior government doctor.
Savitri Devi, who brought her daughter-in-law for the surgery from a nearby village said, " There are no arrangements at all. No medicines, we are being treated like animals."
In November, 13 women died after attending a sterilisation camp in Chhattisgarh - they were among 80 women who were operated on by the same surgical team in a single stretch. Tablets linked to the deaths of some of the women were found to have contained a chemical compound commonly used in rat poison.
India is the world's top steriliser of women, and efforts to rein in population growth have been described as the most draconian after China. Sterilisation is popular because it is cheap and effective, and sidesteps cultural resistance to and problems with distribution of other types of contraception in rural areas.
The government offers cash incentives to health workers and women who sign up for the procedure. Government officials are set targets for how many sterilizations must be performed every year; critics says that drives them to ignore basic safety rules and guidelines.
Health officials in Chatra claim their sterilisation target for this month for the entire district is 3000 surgeries, and that 25 percent of that target has already been met.