Srinagar:
The PDP-BJP government in Jammu and Kashmir finds itself under attack from its own legislators. The trigger: allotment of sports facilities in the state.
The Central government had decided to fund the construction of 12 indoor stadia in a bid to engage young people and take them away from radicalisation and stone pelting.
But the state government's list of locations for the facilities shows that they have been distributed to ministers. BJP legislator Rajiv Jasrotiya says an indoor stadium was supposed to come up at the district headquarters at Kathua but it was diverted to the Bilawar constituency of deputy chief minister Nirmal Singh.
"Somewhere there is a drift, there is a deviation the way this government is going. It's minister specific. You take record of 12 stadiums you will see all have gone to ministers' constituencies," said Rajiv Jasrotiya, BJP legislator from Kathua.
It was after the 2010 civilian unrest in Kashmir, during which 100 people - mostly young boys - died, that the central government formulated the plan to set up sports facilities.
In Pulwama district, one of the two stadia for this district has been allotted to the constituency of Finance Minister's Haseeb Drabu at Rajpora. Another stadium will be built at Pattan in Baramulla district. The constituency is represented by Jammu and Kashmir sports minister, Imran Ansari.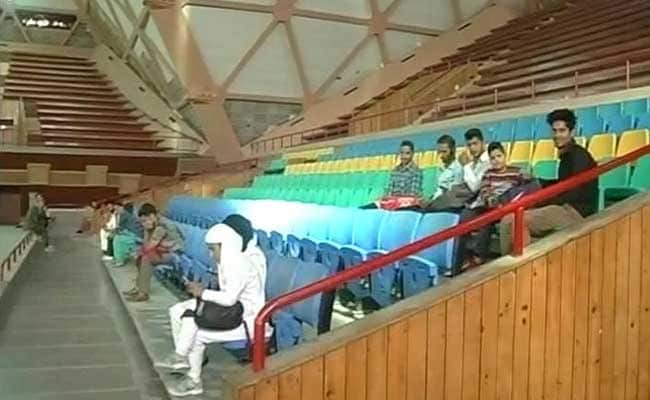 In Kupwara district, the facility has gone to Handwara, the constituency represented by Social Welfare minister Sajjad Lone.
PDP legislator Javid Hussain Baig said ministers who are supposed to represent the entire state are behaving like ministers of their own constituencies.
"Recently some of our MLAs were discussing that we should now address ministers as honourable minister for Kupwara constituency, minister for Lolab constituency etc. Ministers should come out of their constituencies and work," said Javid Hussain Baig, PDP legislator from Baramulla.
But the sports minister has defended the allotments and said it is a matter of chance or luck that the stadia have gone to ministers' constituencies.
"We had just 12 stadiums. If we had 87 stadiums everybody would have been happy. I don't think members should be so agitated about it," Mr Ansari.
As the allotment of 12 indoor stadiums has gone for a political toss, officials sources say the purpose behind establishing these sports facilities has already been compromised. This has also exposed the unease among PDP-BJP legislators who have accused ministers for sharing the pie among themselves.
Get Breaking news, live coverage, and Latest News from India and around the world on NDTV.com. Catch all the Live TV action on NDTV 24x7 and NDTV India. Like us on Facebook or follow us on Twitter and Instagram for latest news and live news updates.