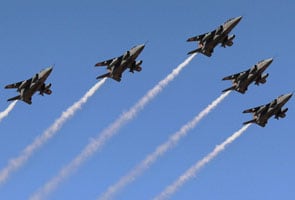 Bangalore:
Even by big catch standards, this is a bit of a Godzilla. The Indian Air Force is looking for 126 fighter jets - a deal that could be worth 11.5 billion dollars. For the next four days, aviation companies from around the world will try their best to hit that jackpot.
(See Pics: Aero India 2011 - India's biggest Air Show)
But that isn't the only deal worth lusting after at Aero India 2011, which began today at the Yelahanka Air Force Station in Bangalore.
The Indian Air Force is also looking to strike a deal to replace its aging Cheetah helicopters with up to 197 new choppers.
There's pending business too. The Air Force is acquiring 22 advance attack helicopters, replacing its transport fleet, co-producing a stealth fighter with Russia and producing an indigenous medium combat aircraft with stealth features.
Countries like the US will try to leverage their strategic relationship with India to corner deals, but the government has made it clear that all major defence purchases will depend on the merits of the aircraft under consideration and the costs.
It's not just military aviation that has drawn 70,000 business visitors. All major civil aviation players see India as a boom story. In its market report, Boeing believes that India will require 1,150 commercial aircraft by 2029 - purchases which could be worth 130 billion dollars.
"India's GDP is growing at a rate of 7.5 to 8 percent every year and will go up to 10 per cent in the near future. There is a direct correlation between GDP growth and passenger travel in the domestic market ... which will grow by 15 percent which is a modest count. Secondly, the discretionary income in India is getting very high, young people have money and the cost of travel is such that the growth will continue," explained Dinesh Keskar, President of Boeing India.
But even if a Boeing or a fighter jet isn't on your shopping list, there's much else to take in. The world's finest aerobatic squadrons showed off their stunts today to massive applause.