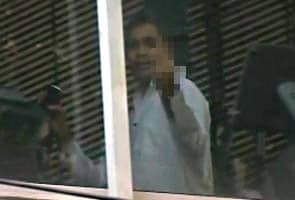 Mumbai:
In a display of arrogance, tainted Mumbai Congress chief Kripashankar Singh's son Narendra Mohan flipped off mediapersons today. During a search, 400 live cartridges were found at his residence Tarang. The police are now trying to probe whether Mr Singh and his family have the necessary arms licences.
The former Mumbai Congress chief's son's obscene gesture came on a day when 12 properties of his family were attached by the Mumbai police, three days after lodging an FIR against them for possessing assets disproportionate to their known sources of income.
The Supreme Court, earlier today, refused to grant Mr Singh an interim stay or quashing of the Bombay High Court order. The Bombay High Court had on February 22 ordered the prosecution of Mr Singh for "criminal misconduct" under the Prevention of Corruption Act and attachment of properties owned by him. His family members allegedly aided him.
The raids that started late Thursday were conducted by a team of the Economic Offences Wing (EOW) of Mumbai Police and a Special Investigating Team (SIT). Over 120 police personnel spread across the city and attached the properties which include a duplex flat with terrace in Jupiter building in Vile Parle, Tarang bungalow, two flats, two offices and a plot in suburban Bandra and a shop at Bhandup. Mr Singh's two BMWs have also been seized.
Only one of the properties in the metropolis is in the name of Mr Singh, while the rest are owned by his wife, son, daughter and son-in-law.
Maharashtra Home Minister RR Patil has said that the government would make available a chartered accountant (CA) to help the police, which today conducted raids at the premises of Kripashankar, accused of amassing disproportionate assets. "The police have been given specific instructions to probe the matter according to the Court's directions," said Mr Patil.
Get Breaking news, live coverage, and Latest News from India and around the world on NDTV.com. Catch all the Live TV action on NDTV 24x7 and NDTV India. Like us on Facebook or follow us on Twitter and Instagram for latest news and live news updates.