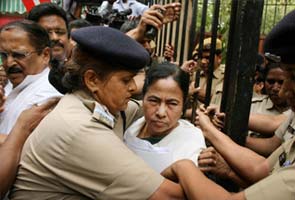 Kolkata:
A leader from Mamata Banerjee's Trinamool Congress has issued a direct threat. Last night, Kalyan Banerjee said if the West Bengal Chief Minister is attacked again, the assailants' "hands will be broken."
He was referencing last week's violent demonstration in Delhi, where students affiliated to the Left heckled Ms Banerjee and manhandled her Finance Minister, Amit Mitra. Both leaders were hospitalised soon after.
Mr Banerjee's comments come as another Trinamool leader, Derek O'Brien, struck a note of contrition. "Trinamool has been doing lot of development. And in doing this positive development (in Bengal), Trinamool has made two-three mistakes and we will learn from these mistakes," he said. (
Read
)
Last week saw the Left and Ms Banerjee's party at war in Bengal with the Trinamool attacking CPM offices in different parts of the state. On April 10, the Presidency University in Kolkata was rampaged by a group of people carrying Trinamool flags.
The often-violent rivalry between the Trinamool and the Left was escalated earlier this monthwhen a 22-year-old member of the Left's student wing died after being arrested in Kolkata. Ms Banerjee described his death as "a small and petty matter." The Left and its youth wing, the Students Federation of India, allege that Sudipto Gupta was battered by the police and died of those injuries.
His funeral procession drew thousands of protestors to the streets of Kolkata.