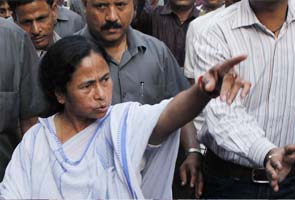 Kolkata:
A day after six of her six of her ministers quit the UPA government over the Centre's decision to allow Foreign Direct Investment in multi-brand retail and other 'people-related' issues, Trinamool Congress chief Mamata Banerjee said, "I can always hiss if I can't bite."
"I can always hiss if can't bite. If the people's rights are endangered we will hiss. We can bow our heads to
Ma, Mati, Maanush,
but not to the arrogance of power," she said at a state government water project at Tallah Park here.
The Chief Minister, said "When we are shouted at, the louder will be our protest. We roar when intimidated. This is our pride."
"We may be poor, but we have dignity. People are the main assets of democracy. What Bengal thinks today, the world thinks tomorrow," Ms Banerjee said.
The Trinamool Congress, which has 19 MPs in Parliament, quit the Congress-led UPA government yesterday. Today, Congress ministers in the West Bengal government handed their resignation letters and withdrew support to the state government; hence, ending the Trinamool-Congress alliance.

(With inputs from PTI)