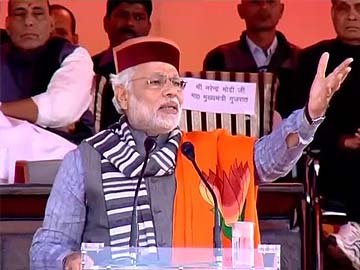 Sujanpur, Himachal Pradesh:
Narendra Modi
has contended that only a person with no family ties can fight corruption in the country effectively and has presented himself as that man, as he is single.
Addressing an election rally in Hamidpur in Himachal Pradesh on Sunday, Mr Modi said in Hindi, "
Mere liye na koi aagey, na peechhey. Kiske liye bhrashtachaar karunga
? (In have no family ties. I am single. Who will I be corrupt for?), adding, "this mind and body is totally devoted to the nation."
The BJP's prime ministerial candidate was in the middle of a sharp attack on the Congress-led United Progressive Alliance or UPA government for "its failure to check corruption."
"Black money stashed abroad belongs to the people of India. These people (Congressmen) have looted the poor and put money there...if we need freedom from corruption, we need freedom from the corrupt," he said.
Mr Modi also sought to turn the tables on the Congress on its repeated allegation that he is a "divisive leader." He used words that Congress president Sonia Gandhi used recently, to attack her party on the Telangana issue. "The Congress is indulging in divisive politics. It's doing '
zeher ki kheti
' (sowing seeds of poison on Telangana)," Mr Modi said. (
Read more
)
"The whole of Andhra Pradesh is burning. The way it (Congress) wants to create Telangana, neither Telangana is happy nor Seemandhra," he said, pointing to what he called the smooth creation of states during the tenure of the BJP's Atal Bihari Vajpayee as PM.
Mr Modi, 63, has never commented on reports that he was married at an early age and separated soon after. He allegedly kept the wedding secret because it meant he would not be able to climb the ladder of the puritan Rashtriya Swayamsewak Sangh (RSS), the BJP's ideological mentor, which frowns on key workers marrying, according to a recent Modi biography by author Nilanjan Mukhopadhyay.
The Congress' Rahul Gandhi, seen as Mr Modi's chief rival for the post of PM, is also single.