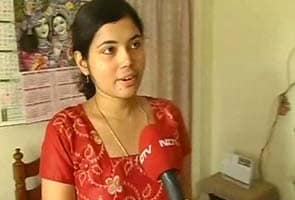 Kolkata:
In a small home in Kolkata's Birati area in West Bengal, Sagarika Chakraborty is not fazed by the cameras and reporters waiting to interview her. What worries her more is when she will be able to bring her two young children home.
The Child Welfare Committee (CWC) of Burdwan district ruled yesterday that four-year-old Abhigyan and two-year-old Aishwarya belong with their mother.
(Read Child Welfare Committee's press release on its order)

But in Norway, child welfare officials had declared the opposite. And in April, a court in Norway agreed to let the Bhattacharya children return to India only if they would be looked after by their father's younger brother, 26-year-old Arunabhash.
"I am not an unfit mother," said Sagarika, dressed in a rust-coloured salwaar-kameez. She looks much younger than her 30 years. "I am a physically and mentally fit mother...it is my responsibility to take care of them," she affirms.
This is not the first battle she has fought for her children - they were removed last May from her care and home in Norway for nearly 12 months.
Now, in round 2, she is up against her husband's family, which refused to release the children last evening, in defiance of the order of the Child Welfare Committee which said, "We have found the mother to be fit to take care of the children and their foster carer to have failed in his duties towards the children." The committee says that "Under Indian law, foster care is a temporary measure with the aim of restoration of foster children to their parents wherever possible" especially when foster care is "no longer necessary or beneficial for them. "
The local police said it would not interfere till it had documents to establish that the children need to be transferred -they currently stay with their uncle, a dentist, 250 kilometres away in Kulti.
In 2007 Anurup Bhattacharya moved to Norway and started work as a geologist. A year later his wife joined him. Abhigyan's teachers in school felt he appeared emotionally distant and asked for an evaluation of his parents. Child welfare officials said that on visits, Sagarika appeared negligent; that the children were fed by hand and often slept in the same bed as their parents
The Bhattacharyas argued that Norwegian officials were misrepresenting Indian cultural sensitivities - children sharing a bed with their parents, for example, is common among Indian families. The battle to have them released from foster care in Norway tested the diplomatic relations between Norway and India. But in the end, the agreement to bring them back to Bengal in the care of their uncle was a private contract struck between Sagarika, her husband, and his brother, which was accepted by a local court.
A last-minute volatility between Anurup and Sagarika threatened to derail the agreement- there were suggestions that the couple was on the verge of separating. But they presented a united front and Sagarika returned to India; while Arunabhash escorted his niece and nephew home.
Anurup still works in Norway.
In June, Sagarika applied to the CWC of Burdwan to intervene in the matter and have the children returned to her.
"The Norwegian orders under which the children were released to foster care of their 26-year-old bachelor uncle do not justify an absolute or permanent separation of the children from either of their parents," the committee found.