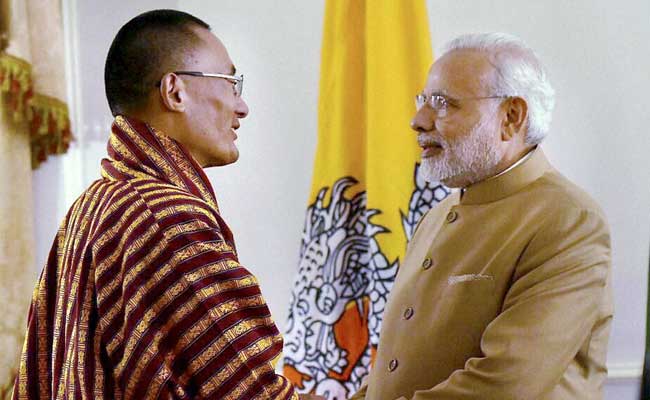 United Nations:
India-supported hydro projects in Bhutan, when completed, would save 11 million metric tonnes of carbon, Ministry of External Affairs spokesperson Vikas Swarup said after Prime Minister Narendra Modi met his Bhutanese counterpart.
Mr Modi met Bhutan Prime Minister Tshering Tobgay on the sidelines of the annual UN General Assembly session after his address to the UN Sustainable Development Summit, a speech which the Bhutanese leader said was "visionary".
Mr Swarup told reporters yesterday that the two leaders voiced appreciation on the India-supported hydro-product projects in Bhutan progressing very well.
"Once all of them come on stream, 80 per cent of power from these projects would be exported to India and we would be saving 11 million metric tonnes carbon," Mr Swarup said.
Mr Tobgay also voiced Bhutan's support for a permanent seat for India at a reformed UN Security Council.
"Bhutan said it is an anomaly that a country like India is still not a permanent member" of the Council, Mr Swarup said.
The two sides discussed, sustainable development goals, climate change, progress on small development projects that India is implementing in Bhutan and the potential of tourism to become another strong bridge in Indo-Bhutanese ties.
Mr Tobgay said time has now come to broaden the Bangladesh, Bhutan, India, Nepal (BBIN) Initiative beyond the motorways.
"We could now start looking at other projects in other sectors as well," Mr Swarup quoted the Bhutanese leader as saying.
Mr Modi then met Swedish Prime Minister Stefan Lofven, who expressed keenness in moving cooperation with India at a much faster pace.
Mr Swarup said Mr Modi invited Sweden to become a partner in the government initiatives like 'Make in India', 'Skills India' and 'Smart City'. He also outlined opportunities for Swedish investments in areas like railways, renewable energy.
The two leaders also had a "substantive discussion" on terror group ISIS and how it is impacting countries like Sweden and other European nations.
On UNSC reforms, Mr Swarup said, "There was a meeting of minds" with both leaders agreeing that UN needs to be reformed and the 70th anniversary of the world body presented a useful opportunity to effect the much delayed reforms.
Sweden reiterated its support to India's bid for permanent membership of the Council.
Mr Modi then met Cyprus President Nicos Anastasiades, who expressed gratitude for India's support to the Cyprus question.
The two leaders had a discussion on the double taxation agreement, one of the pending issues for discussion between India and Cyprus.
Mr Swarup said the Prime Minister will look into the matter and see how it can be expedited.
The Cyprus president referred to the possibility of signing a shipping agreement, revision of the air services agreement and an MoU on tourism and hi-tech cooperation with India.
On the refugee crisis, Mr Swarup said Mr Modi wanted to understand how Europe was tackling the crisis, what are the possible solutions and how it is impacting countries in the region.
There was a discussion also on investment agreement with EU and Mr Modi expressed his disappointment that 700 drugs from India had been held up on the report of one inspector and that had "created an avoidable obstacle in the progress of this particular agreement," Mr Swarup said, adding that India looks forward to early resolution of the issue.
Cyprus also voiced support for UNSC reforms, he added.