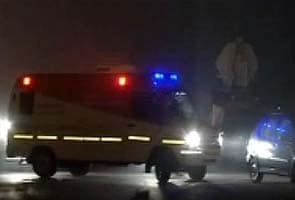 New Delhi:
When the specially-equipped Canadian Regional Jet was finally air-borne with Amanat (NOT her real name) late on Wednesday night, it was the culmination of a series of well-coordinated moves by the government to offer better medical facilities to the 23-year-old medical student, whose brutal gang-rape in Delhi has shocked and angered an entire nation.
The violent protests over the weekend in the national capital had clearly sent ripples through the political corridors and on Wednesday, when the Union Cabinet met, NCP chief Sharad Pawar was the first minister who wanted an update on the young woman's condition.
Home Minister Sushil Kumar Shinde then gave a complete lowdown on Amanat's case to the cabinet including the possibility of shifting her to a better hospital.
Health Minister Ghulam Nabi Azad chipped in to say that the government had already formed a team of top doctors to monitor the student's situation round the clock. Mr Shinde said that renowned cardiac surgeon, Dr Naresh Trehan, had been asked to evaluate Amanat's health, and that if she was fit to fly, the government would move her to a country with liberal organ transplant laws - Germany and Singapore were the preferred choices.
Amanat needs an intestine transplant - large parts of her intestines, struck with an iron rod by her attackers, were removed during her 10-day stay in a Delhi hospital.
By afternoon, the Centre had quietly moved to obtain passports and visas for the young woman and her parents to fly them to Singapore. Dr Trehan made two trips to Safdarjung Hospital in Delhi where Amanat was being treated. Once doctors decided she would be able to endure the journey, her parents' consent was taken to move her in a specially-equipped air ambulance.
At 6:30 pm, the doctors at Safdarjung Hospital failed to share their daily televised update of her health. Aware that could fuel rumours, hospital authorities called in extra police personnel to increase security. But by 8:30-9 pm, word had spread that Amanat was being moved to another medical facility.
Realising that the media would monitor each and every move, care was taken to send decoy ambulances from the Medanta Hospital in Gurgaon near Delhi to the Safdarjung Hospital to avoid the 23-year-old's ambulance being followed as it made its way to the airport.
At around 11:45 pm, the air ambulance, with Amanat and her parents as well as her team of doctors on board, finally took off for Singapore.