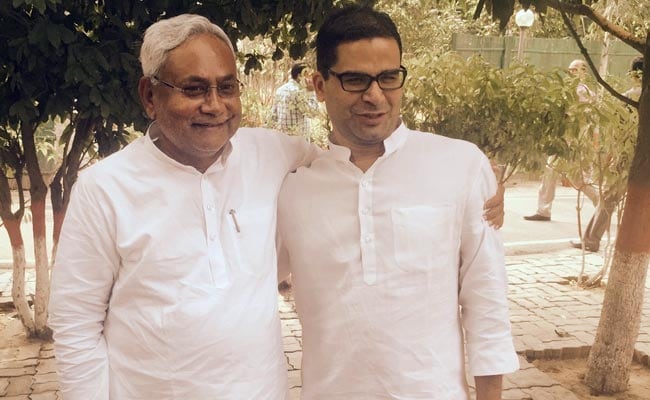 Patna:
Prashant Kishor, the political strategist who joined Nitish Kumar's Janata Dal (United) last month, is officially the second most powerful man in Bihar's ruling party.
The 41-year-old was today declared national vice president of the Janata Dal (United), second only to its president, Nitish Kumar.
No one has ever held that post before.
Mr Kishor who is credited with crafting a winning poll strategy for Prime Minister Narendra Modi in 2014, is seen to be close to Nitish Kumar. When he joined the party, the Chief Minister told NDTV: "He is the future I tell you."
Spokesperson KC Tyagi said Mr Kishor's appointment would help the party reach out to social segments out of its traditional support base.
Mr Tyagi said the move would strengthen the Janata Dal (United) as Mr Kishor's expertise will boost the party as it prepares for the 2019 national election. The Janata Dal (United) would also chart a new course "outside traditional methods of socialist politics", he said.
"I am grateful for the responsibility and the honour of leading the party. I am committed to Bihar and Nitish ji's's idea of social justice with development," Mr Kishor tweeted.
The move has caused heartburn in the ranks even though Nitish Kumar sounded out almost all his senior party colleagues about the debutant's incredible promotion.
Prashant Kishor's primary responsibility will be to manage the party's campaign for the 2019 polls and take on the challenging job of coordinating with the BJP while making sure its candidates get a good bargain in seat-sharing.
Nitish Kumar, say sources, wants to assess Mr Kishor on how he delivers on his strategic skills when it comes to votes on the ground. The ruling party's committed vote bank has remained below 20 per cent despite Nitish Kumar being voted to power for three consecutive terms since 2005.
Besides PM Modi, Mr Kishor has worked for the grand alliance of the JDU, Lalu Yadav's RJD Party and the Congress in Bihar, which defeated the BJP in the 2015 state polls. He later worked for the Congress in the Punjab and Uttar Pradesh assembly polls.
Sources say Nitish Kumar believes that Mr Kishor's skills can help him navigate alliance politics at a time the BJP under PM Modi and its president Amit Shah are seen to be ceding very little ground to its allies.