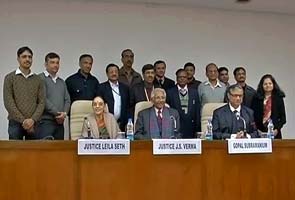 New Delhi:
As Justice JS Verma, Justice Leila Seth and former solicitor general Gopal Subramaniam lap up praise for their 600 page report into how to make laws against sexual violence a bigger deterrent, there's another group of unknowns that are sitting back satisfied. They are the group of 15 young lawyers, academics and students who sat behind the panel during the release of the report, and it is they who worked 18-20 hours every day since December 23 to make sure that the report came out on time.
Youngest of the lot is 24-year old Soumya Saxena. She is chasing a doctorate in legal history at Cambridge University and happened to be in India for her fieldwork when the December 16 gang-rape happened. Her coursework took a turn she had never foreseen. "My work is on gender and I was there when the protests took place at India Gate," she told NDTV. "But it was only when someone from Gopal Subramaniam's office called, that I applied to work with the Justice Verma committee," she added.
And work she did. Ms Saxena along with the rest of the young team, literally, lived in Gopal Subramaniam's office. If Justice Verma was putting in all days, without any offs, they were doing all-nighters, but there was a different kind of motivation. "It's been an incredible experience," she said, "We experience patriarchy at multiple levels in our daily lives but to be able to influence the law at that level, I wouldn't expect to do that at my age."
And it's that hope of being an agent of change that drives them all - including the group leader, the counsel for the committee Abhishek Tewari. He and the other lawyers have not worked on any other case for the last month and have been working for free.
"I have been associated for quite a long time with Mr Subramanyam," said Mr Tewari, "I used to be his junior and the day after the committee was constituted he gave me a call. He said we are meeting for the first time, can you help me with the report. So it started with me and couple of my colleagues and then we got along and the work involved was huge, so we needed more people who have dealt with law and crime against women."
Mr Tewari brushed aside any suggestion that women are more involved with the project, pointing out there are more men in the panel than women. Then again he said, it's something that affects everyone.
Justice Verma Committee took 29 days to hand over their report, a first for any judicial panel, but Mr Tewari said it had to be so. "The longer you wait, the longer public memory fades - the people of India wanted the committee to act fast."
And all of them are now satisfied that they didn't disappoint.
Get Breaking news, live coverage, and Latest News from India and around the world on NDTV.com. Catch all the Live TV action on NDTV 24x7 and NDTV India. Like us on Facebook or follow us on Twitter and Instagram for latest news and live news updates.