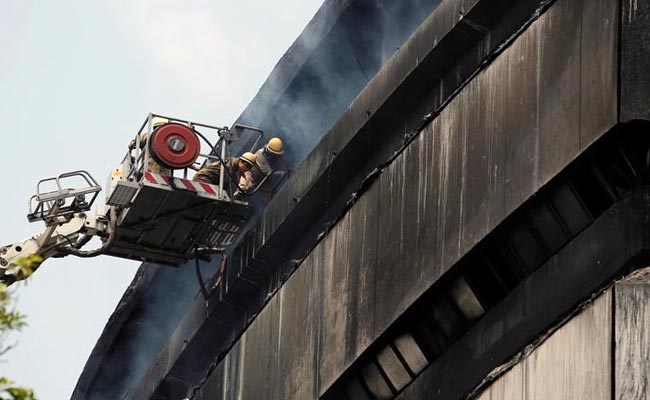 Highlights
35 fire engines & 2 skylifts were involved in the 4-hour long operation
As fire spread, six firefighters got stuck on the building's fourth floor
They were eventually rescued and rushed to hospital for smoke inhalation
New Delhi:
It took nearly 170 firefighters four hours to douse the
massive blaze at the National Museum of Natural History
in the early hours today that gutted its huge collection of exhibits.
The fire broke out at around 1.45 AM on the
top floor of six-storeyed FICCI building
in central Delhi's Mandi House area.
Initially eight fire engines from the Connaught Place Fire Station were rushed to the spot and a team of 12 fire officials went inside the building to assess the situation. (
360 Degree View Of National Museum Of Natural History After Fire
)
In no time, they rang the alarm bells and a dozen more fire engines were rushed from Safdarjung fire station, Deputy Director of Delhi Fire Services Atul Garg said, adding, 35 fire engines in total and two skylifts were pressed into service in the operation that lasted for over four hours.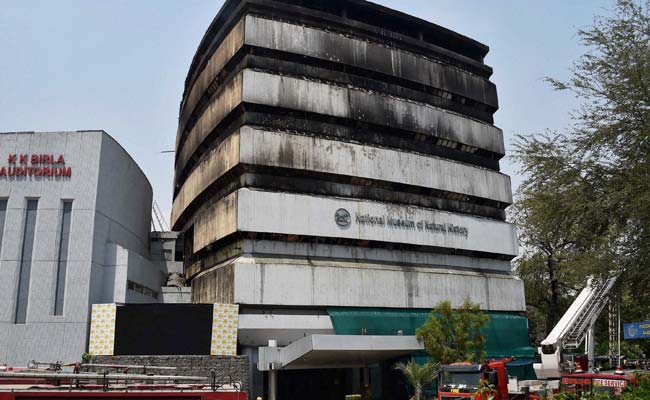 "In such scenarios, firefighters have to brave extreme heat and temperature that may exceed 800 degrees Celsius and can even touch 1000 degrees Celisus. They are dressed in proper uniform and equipped with techniques to meet the challenges. However, it never stops being a difficult task," Mr Garg said.
Around 170 firefighters joined the operation and they went inside the building that was virtually turned into a burning furnace, by turns, in teams comprising 8-12 officials, said former fire chief AK Sharma who was also supervising the operation. (
Also read: After Fire Guts Natural History Museum, New One Planned For 225 Crores
)
The operation hit a critical point when six firefighters -- including an Assistant Divisional Officer, a station officer and a sub-officer -- were stuck on the fourth floor of the building.
"The fire, that originated from the fifth floor, had spread till the fourth. The aim was to do damage control there. What the officers could not assess well was the rate at which the flame were spreading," Mr Sharma said.
When they were trying to control the situation on the fourth floor dodging burning fibre ceilings which was falling down in pieces, the fire made its way to the third floor too.
They tried to retreat but the approach zone towards both staircases were blocked by burning material.
The officials gave visual signals with their flash lights and one of them managed to make an SOS call through his wireless, following which a rescue operation was launched immediately.
While two of them were rescued with the help of the skylift, the others came down using scaffoldings that was installed outside the building, part of which is undergoing repair.
They were all rushed to a hospital after having inhaled excessive smoke, and discharged later by this evening, Mr Sharma said.
The cause of the fire is still to be determined and Delhi Fire Services have started preparing a report on the incident, a senior official said.