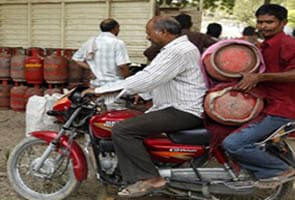 New Delhi:
Union minister Ambika Soni has said in reaction to the restriction of subsidised gas cylinders announced on Thursday night, "I do hope that the Indian housewife will once again rise to the occasion. As a woman, I know how difficult it will be as the Indian housewife has to manage budgets."
Earlier, BJP leader Sushma Swaraj had said, "I wish the woman president of the Congress Party (Sonia Gandhi) had felt the problems of a lady of the house."
After Thursday night's announcement, the government will allow only six subsidised gas cylinders in a year at a cost of around Rs 400. Any cylinders above that will cost a family Rs 750.
"As a member of the council of ministers I do realize the imperative of raising prices of commmodities like diesel and LPG, but this tough measure is imperative for growth. Sensex and industry has welcomed as signals in the right direction by the government," Ms Soni said.
She added that tough decision hurt but they have to be taken so that the government has money to spend on social welfare and infrastructure.
She also said that chief ministers could "make the bitter pill more palatable". The last hike in petrol prices of Rs 7 was softened by states reducing taxes, after protests by allies and opposition parties.