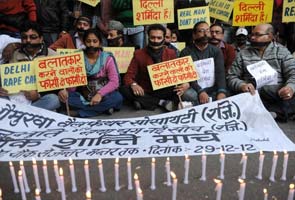 New Delhi:
The protests in Delhi continued today with many pledging to hold their ground at places like Jantar Mantar till they see evidence of the government's commitment to stricter laws for cases of sexual assault.
The 23-year-old student who was cremated in the early hours of Saturday in the capital has provoked shame, introspection and the unequivocal demand for more safety for women.
Home Minister Sushil Kumar Shinde said that he has invited all political parties to suggest the changes that should be incorporated in existing criminal laws to provide more severe punishment for those convicted of rape.
The opposition has been asking the government to call a meeting of all parties and a special session of parliament to discuss possible changes to the law, a point raised again today by BJP leader Sushma Swaraj.
Sources say that instead, the government wants to wait till a report on potential amendments is readied by a three-member team headed by retired Supreme Court judge Justice JS Verma, which has been given a month for its submission. After that, the government is likely to invite all parties for a discussion on the report.
In the two weeks that the student fought for her life in hospital, the government was criticized repeatedly for its clumsy responses to protestors and its perceived distance from public sentiment.
Prime Minister Manmohan Singh and Congress president Sonia Gandhi have committed in televised addresses to ensuring that the six men arrested for the student's rape and murder get the "severest punishment." A committee headed by a retired Delhi High Court judge is looking at the lapses that allowed the savage attack on the student; the same team will suggest how to make Delhi safer for women.