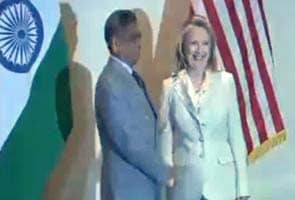 New Delhi:
US Secretary of State Hillary Clinton met External Affairs Minister SM Krishna today. This comes ahead of the Indo-US dialogue slated for June 13 in Washington.
Mrs Clinton is expected to have reiterated a host of stated positions of the US on a variety of issues, from India reducing the oil imports from Iran to Indian nuclear liability law not giving a level-playing filed to the US nuclear firms.
Among the regional issues to have dominated in the discussions include Iran and Myanmar. The US has been urging India to cut down its dependence on Iran for oil.
The meeting comes a day after the US Secretary of State's much-hyped visit to Kolkata yesterday which ended in a raging controversy. The Americans stated that the issue of US investments in retail sector had come up during her meeting with Chief Minister Mamata Banerjee, something that she and her government denied.
A statement released by the US said that the two leaders - both on Time's list of the world's 100 most influential people - talked about issues that included "increasing US investment in West Bengal, including in the retail sector" in the meeting that lasted for over an hour at the Writers' Building in Kolkata.
In fact, Ms Clinton had, before the meeting, also made it clear that she would lobby for Foreign Direct Investment or FDI in retail. At a town-hall session in Kolkata yesterday where she urged the audience to ask her anything they wanted, Ms Clinton had told NDTV's Barkha Dutt, "I will raise the US desire to open market to multi-brand retail. Enormous experience can be brought to India on supply-chain management, on developing relationships with small producers. The benefits may not be immediately perceived." But she had added, "I also understand politics and how these decisions can be difficult."
The state government, however, said that Ms Clinton did not mention FDI-in-retail during her interaction with the chief minister.
"I would like to state on behalf of the West Bengal government that the US Secretary of State did not mention FDI in retail when speaking to the chief minister. There was no further discussion on this specific subject at all," state Finance Minister Amit Mitra said in a communication to the US consul-general in Kolkata Dean Thompson, a copy of which was released to the press last night. "I urge you unequivocally and strongly that the mention of investment in retail sector be avoided in your press statement," Mr Mitra said.
Ms Clinton flew to Delhi then and met with the Prime Minister and Congress president Sonia Gandhi yesterday.