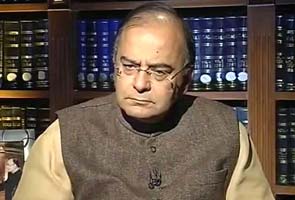 New Delhi:
Sushil Kumar Shinde's clarification was not adequate. He said RSS and BJP have been organizing terror camps. We have been in the govt, we are now in opposition. We do not deserve to exist if we have actually done something like this.
The Home Minister of the country says something like this without even a shred of evidence. He defames us. It takes the polity of the country to the lowest levels.
This statement only helps Pakistan. We have been saying that Pakistan harbours terrorists. Now our Home Minister says things like these on national television.
I still hope that wiser counsel prevails. Mr Shinde withdraws his statement and tenders an unconditional apology.
There is no such phenomenon such as 'saffron terrorism'- to overstate this, to dig up evidence.
Credibility of the Central Bureau of Investigation and National Investigation Agency has taken a hit in cases of terror attacks.
In cases of terror attacks, the authorities go on to blame certain outfits and then completely back pedals.
Let there be a fair trial and the truth will come out.
I would call something a terror if something has been happening continuously for the past 20 years or so, and not because of few incidents.
I have seen statements of Rashtriya Swayamsevak Sangh categorically saying that they don't believe in any form of violence as a form of protest.
Mr Jaitley on VVIP chopper scam:

Who got paid is the only limb of the case that remains? The matter has to be honestly and independently investigated.
Even good products have to be bought the honest way.
The argument that the qualifications were changed in NDA's time is frivolous.
What the former Air Chief has done is when the focus was on him, he cleverly tried to shift focus.
The issue is not who changed specifications, the question is who got paid.
What Brajesh Mishra did looks eminently sensible.
The entire system in India must debate this - if we have decided not to have middlemen, we must de-facto eliminate this.
Mr Jaitley on 2014 general elections:

The calendar of the next elections will be decided by the numbers of the govt.
Party which is in a position answer this is Samajwadi Party or Bahujan Samaj Party. It depends on their vulnerability and I have reason to believe that both are vulnerable.
Our experience of the NDA alliance in Bihar has been a very good experience.
As far as the BJP is concerned, we not only want this alliance to continue but also the NDA to expand at a national level.
Managing contradictions is also a part of politics. BJP is the anchor of any non-Congress coalition.
Mr Jaitley on the controversy over Justice Katju's article:

No personal issue with Justice Katju. I feel that as the chairman of Press Council of India he is crossing his limit.
He holds a quasi-judicial post. My issue is the issue of propriety. How can he ask people to vote or not vote for someone. He should be non-partisan.
No politician in India has gone through SITs and other investigations and been cleared beyond any doubt. They found nothing against him.
Narendra Modi's Last 10-11 years have enabled him to prove himself. He has proved to be decisive and high on personal integrity. He has had a peaceful decade.