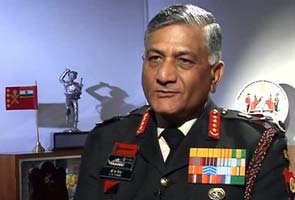 New Delhi:
The Supreme Court today asked the government to explain its stand on the row over Army chief General VK Singh's age. Here are the highlights of what the court said;
Supreme Court questions the way in which Army Chief's complaint about his age was rejected by the Defence ministry on December 30 last year.
Entire process on deciding Army Chief's age appears to be vitiated, observes Court.
The court referred to the Attorney General's role in the matter. It wanted to know how an officer whose opinion formed the basis of the ministry's order fixing General Singh's age in July last year could also be involved in the process to decide on his statutory complaint on the issue.
Withdraw the December 30 order or we will quash it, Supreme Court tells government.
The court has given the Defence ministry the option of withdrawing its December order before the matter is heard by the Supreme Court.
The other option for the Defence Ministry is to take a fresh legal opinion to decide on General Singh's complaint. This will then be heard by the court.
Next hearing scheduled for February 10.