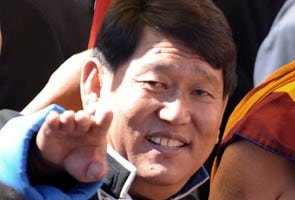 Itanagar:
A high-level emergency meeting was held at the state secretariat in Itanagar on Saturday evening to discuss steps to be taken to trace the missing chopper carrying Arunachal Pradesh Chief Minister Dorjee Khandu and four others.
As the whereabouts of the Chief Minister's chopper was yet to be officially confirmed, the Army, SSB, ITBP personnel will be launching a massive search operation at the break of dawn on Sunday while the Indian Air Force choppers would conduct a recce, Power Minister and state government spokesman Jarbam Gamlin said.
He informed that the state government has been in constant touch with the Centre as well as the government of Bhutan to monitor the situation.
A crisis management cell consisting of principal secretary to the chief minister M Yeshi Tsering, civil aviation commissioner Hage Khoda, home secretary A K Srivastav, IGP SBK Singh, DIGP (West) Robin Hibu, DIG (Intelligence) Anil Shukla, City DC Pawan Kumar Sain and SP Apang Tamut was also set up at the meeting.
The committee will be monitoring the situation under the overall guidance and supervision of Chief Secretary Tabam Bam.
"We only hope and pray that the CM and the team are safe," Gamlin said.
Gamlin urged people not to panic and pray for the safety and safe return of the chief minister as well as others.
He also asked the people of Tawang, West and East Kameng districts to inform the local administration or the police immediately about any information on the missing chopper and those on board.
The meeting was attended by ministers, MP Takam Sanjay and senior officers, including Chief Secretary Tabam Bam and IGP SBK Singh.